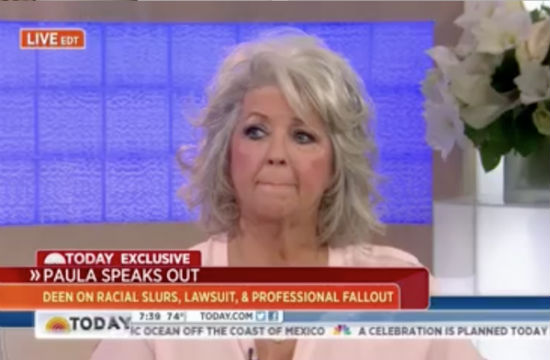 Paula Deen showed up this time for her hotly anticipated Today Show exclusive interview this morning to address the now infamous deposition she gave in which she admitted to having used racial slurs, and wanting to throw a plantation-themed wedding, with a black waitstaff dressed as slaves.
"I was overwhelmed. I was in a state of shock," Paula told Matt Lauer of the backlash in her interview, "because there's been some very, very hurtful lies spread about me…I'm so distressed that people I've never heard of are all of a sudden experts on who I am."
"The day I used that word was a world ago," she claims of using the N-word once in 1986 to reference to a man holding her at gunpoint. "It's just not a part of who I am."
And then, of course, came the blame-it-on-the-youngsters defense:
"It's very distressing for me to go into my kitchens and I hear what these young people are calling each other. It's very, very distressing…I think that, for this problem to be worked on, that these young people are going to have to take control and start showing respect for each other, and not throwing that word at each other, it makes my skin crawl."
Our personal favorite admission: "There's a couple of kinds of people that I don't like, that I am prejudiced against, Matt, and that's thieves and liars."
Then, in a final burst of tears, Paula erratically professes:
"If there's anyone out there that has never said something that they wish they could take back, if you're out there, please pick up that stone and throw so hard it at my head that it kills me. Please. I want to meet you. I want to meet you. I is what I is and I'm not changing."
Please check out parts one and two of her interview below.
Visit NBCNews.com for breaking news, world news, and news about the economy
Visit NBCNews.com for breaking news, world news, and news about the economy
Catch up on the whole saga from the very beginning:
Paula Deen Defends Use Of 'N-Word', Wants Black Employees To Dress Like Slaves (UPDATED: And She's Fired)
TMZ Obtains Paula Deen's 'N-Word' Transcript, Her Lawyers Respond (UPDATED With Full Transcript)
At Least Paula Deen Is Totally Okay With People Watching Porn At Work?
Lawyers Release New Defense Of Paula Deen's Racism: She's A Southern Old Person
WATCH: Matt Lauer Announces Paula Deen's A Today Show 'No Show'
WATCH: Paula Deen's Statement On Racism Scandal (UPDATED With Three Videos)
Food Network FIRES Paula Deen
WATCH: Paula Deen Reacts To Food Network Firing, Anderson Cooper Grills Her Former Publicist
The Food Network Pulls Paula Deen's Episodes From Schedule, Spares Her Son
Oh Boy: Civil Rights Group Alleges Paula Deen Referred To Black Employee As 'Little Monkey', Paid Black Workers Less Than White Workers
WATCH: Paula Deen Finally Reschedules That 'Let Me Explain My Racism' Date With Matt Lauer (UPDATED)
Paula Deen Might Have Actually Made Her Black Employees Work For Free
Paula Deen Sponsorship Watch: Who's Firing Her Or 'Monitoring The Situation'
WATCH: Jamie & Bobby Deen Say Their Mom Isn't Racist Because She Once Bought Hank Aaron PJs
More reactions:
Why Did Entertainment Tonight Take Down Wendy Williams' Perfectly Sensible Paula Deen Reaction?
WATCH: The Daily Show Accuses Paula Deen Of 'Type-2 Racism'
Twitter Has Spoken: Apology Lite By Paula Deen Doesn't Cut It
WATCH: Team Coco Loyally Defends Paula Deen Via Deon Cole's Black Box
WATCH: GMA Asks Bobby Flay To Comment On Paula Deen, Results Are Predictably Awkward
The Neelys Respond To Paula Deen Scandal
WATCH: Conan Eviscerates Paula Deen And Her Buttery Fans
Frank Bruni Flips On Paula Deen: Once His 'Champion Of Downscale Cooking' Now 'Deep-Fried Boor'
Kathie Lee Gifford's Misguided Defense Of Paula Deen: 'The Facts Are Not Yet In' (VIDEO)
Have a tip we should know? tips@mediaite.com