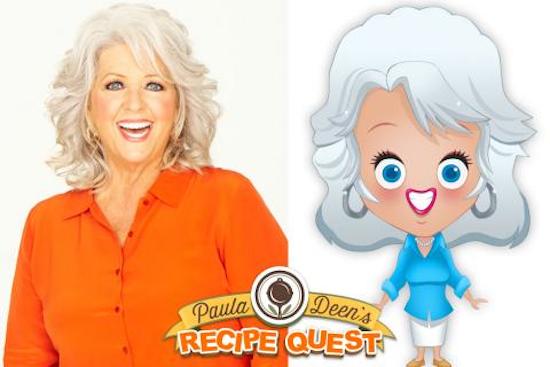 Kim Kardashian has some competition in the app game now — but which caricature avatar is more like the original??
Let's first recap all of the products that Paula Deen has launched in just the last six months: a new online network with old and new content. Podcasts. More cookbooks!! So it's safe to assume that Deen and her team are banking on a very digital focus for her million-dollar comeback.
And yes, this new app sounds weirdly a lot like the Kardashian bonanaza app that Kim launched last year. From the Atlanta Business Chronicle:
Featuring 40 levels of puzzles, players mix and match ingredients to Deen's Southern dishes and collect downloadable recipe cards as they complete each level. Players can connect with friends and compete to have their scores highlighted on Deen's leaderboard. Recipes and puzzles will be added to the app each week, the company said.

Said Paula Deen Ventures:

Paula Deen's Recipe Quest takes gamers through Paula's illustrious culinary career. Players will start as an amateur chef in a home kitchen while learning the basics of cooking. As they progress to higher levels, players will make their way up to cooking at Paula's restaurant, The Lady & Sons, and to eventually owning their own virtual restaurant.
Just how realistic do you think that the job at The Lady & Sons will be?
We have a hard time believing that Deen is "a gamer at heart," but hey — she's clearly hoping that her app will catch on like the Kardashian's. We're just going to go throw our phone in a toilet now, BRB.
UPDATED: THE AD FOR THE GAME, OMG. We can't stop watching this. It is Candy Crush with sticks of butter!
Image via Paula Deen Ventures
Have a tip we should know? tips@mediaite.com