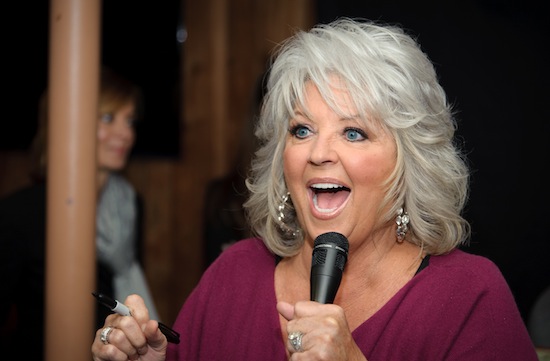 We live in a crazy world when even the celebrity chef is getting the, er, celebrity treatment. The chef everyone loves to hate, Paula Deen, is finally getting her moment in the spotlight with her E! network True Hollywood Story premiering Monday night.
From the looks of these clips, this episode of True Hollywood Story is maybe, kind of, sort of tinged with the truth — like her son, Jamie Deen, admitting that their relationship was at one point hateful and damaged — but a whole lot of damage control, as well. For every "hard times" montage there's a cheering crowds clip, an endorsement from an African-American reverend (for real), and a sound bite of Deen "overcoming adversity." Uh huh. Other notable quotes from the episode:
"The media sensed there was something blubbery and bleeding and vulnerable in the water. And it attacked." – Allen Salkin, author of From Scratch: Inside the Food Network
"The African-American community who were vilifying her have come back to say to me, 'She did not deserve what's happened to her.' All of us have said things that we regret." — Rev. Dr. Leonard Small
"If we were any closer, we'd share underwear. Our relationship and our bond has been forged through fire." — Jamie Deen (Uh, what now?)
We'll see how the ratings pan out for Miss Deen — but not just for E! network. Word has it that the Food Network has seen numbers drop ever since Deen left the building. In fact, Bloomberg reports that Nielson numbers show a 13 percent decrease in the 18-49 year old viewing group during prime time. Execs say the numbers have nothing to do with "Deengate," but if this True Hollywood Story does well, it begs the question: is controversy the only way to boost numbers?
RELATED:
WATCH: Kanye West Calls Paula Deen an 'Old School' Racist on Jimmy Kimmel Live!
DONK DONK: A Recap of the Paula Deen-Based Law & Order SVU Episode
WATCH: Jamie Deen Returns To Today, Says Paula Is 'Doing Really Fantastic'
Have a tip we should know? [email protected]