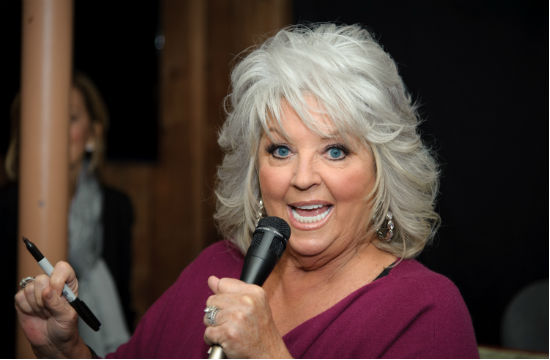 The long national food nightmare of the Summer of Racism 2013 is over: a judge dismissed the discrimination lawsuit filed against Paula Deen and her family, which had nearly destroyed the prominent celebrity chef's career. (Good job, Friday news dump.)
A dismissal order was posted by Savannah news site WTOC, noting that "both parties have mutually agreed to dismiss the case and a settlement agreement has been filed with the court." Once a judge signs the order, the entire sordid legal deal — which cast Deen in a negative light after a deposition revealed that she commonly used racist language — will be completely done with, legally speaking.
And we are so happy to hear that. Honestly, why didn't Deen settle with Lisa T. Jackson to begin with? There were so many instances where Deen could have just given Jackson a massive chunk of money to drop the lawsuit (and a ton of people agree with us), but instead she just had to stick it out and make a bunch of ridiculous videos where she tried to explain and justify her bizarre actions (not just her racism, but her poor PR handling of the entire scandal.) Paula Deen has no one to blame for blowing her own scandal out of proportion but herself (to the point that it's now a Law & Order: SVU episode.)
By doing so, she simply fed us, the rabid internet beast, until even we got sick of writing about it. It is done. We are finished. We are going to drink some Johnnie Walker Black and close this chapter of our lives forever. Please, no one leak a photo of Deen wearing a Klan outfit to any news outlet.
(Unless it's us. Send all non-Photoshopped, Klan-regalia'd Deen photos to our Tips section.)
[Savannah WTOC via Eater]
RELATED:
Bourdain Finally Talks about Paula Deen: 'I Don't Have the Heart to Pile on at this Point'
WATCH: Today Experts Agree Paula Deen's Career Is Dead, In Spite Of Judge's Ruling
Paula Deen Defends Use Of 'N-Word', Wants Black Employees To Dress Like Slaves (UPDATED: And She's Fired)
Have a tip we should know? tips@mediaite.com