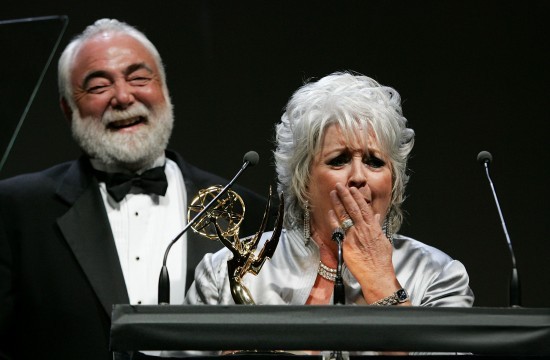 Whomever The National Enquirer has embedded in Paula Deen's camp is good . The gossip paper, which broke the news of Deen's racism deposition in the first place, claims that Deen's husband and Ernest Hemingway lookalike Michael Groover plans on filing for divorce. Apparently her defense that he was a casual racist, so it was totally cool for her to say the n-word did not make him feel loved and supported.
"Paula's confession not only toppled her multimillion-dollar cu­linary empire but also sent Michael into a rage because she revealed in the deposition that he liked to tell racial jokes, according to the friend," the Enquirer revealed, adding that the limelight-avoiding "quiet Southerner" had been harassed by strangers after the story broke and was sick of being guilty by association. "He's truly fed up with [her] and had it out with her in an ugly showdown," the top-secret Friend said.
And, frankly, we'd be pissed too if our famous spouse denied being a racist in a nationally-read legal deposition and then was all "BUT MY SPOUSE IS LIKE TOTALLY COOL WITH MAKING FUN OF BLACK PEOPLE.":
During the deposition, Paula denied ever using the N-word when telling jokes.

But when asked if other family members told jokes using the N-word, Paula said: "I'm sure they have. My husband is con­stantly telling me jokes."

Asked if she was offended by those jokes, she replied: "No, because it is my husband." When Michael learned what she'd said, "he went through the roof," divulged the insider.
Though there isn't much left in the Deen kingdom to squabble over, squabble they may over the remainder of Deen's $17 million fortune. (Apparently they don't have a pre-nuptial agreement, which family law expert Kanye West would not approve of.)
[The National Enquirer via The Daily Meal]
RELATED
Bloomberg Business Blames Paula Deen Scandal On Her 'Boorish,' Irresponsible Brother
Guess How Many Millions Of Sponsorship Dollars Paula Deen Has Lost
WATCH: Paula Deen's Statement On Racism Scandal (UPDATED With Three Videos)
Have a tip we should know? tips@mediaite.com