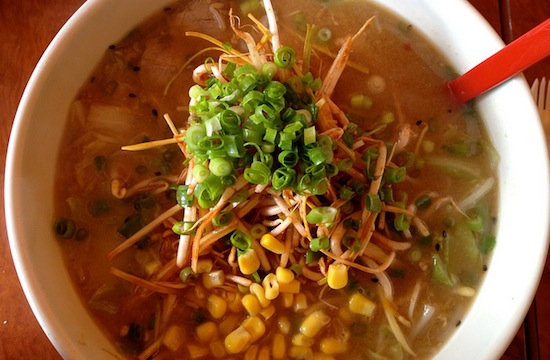 While we hipsters slurp down every noodle from Momofuku to Ippudo to Ivan Ramen, our ramen-slurping friends across the ocean are kinda over it.
That's what the Washington Post now says, decrying the lack of innovation and originality in today's ramen shops in Japan. According to WaPo, "Both the number of bowls sold and the number of restaurants selling ramen in Japan have steadily declined in recent years, according to figures from the Shinyokohama Ramen Museum." And even Ivan Orkin agrees:
"The ramen boom has ended," said Ivan Orkin, a New Yorker who first traveled to Japan in the 1980s and now owns two noodle-soup restaurants in Tokyo. "A boom implies that there are new avenues and new growth to pursue, and that's not the case in Japan anymore."
And now, ramen is far too high-end for its own good, says Orkin — which, really, we only have the hispters to blame for that.
"When I first went to Japan, ramen was popular with salarymen and truck drivers. It was a blue-collar food, a junk food," he said. "If I'd suggested that a well-dressed woman in high heels would eat ramen, people would have laughed at me. But now ramen has completely permeated society."
Conclusion: Hipsters ruin everything that is true and good in the world.
But, as David Chang noted on Twitter, ramen isn't the only Japanese food start a downhill slide. And because we hipsters are quick to defend everything, everyone's freaking out.
Not just ramen "The ramen boom has ended," says @ivanramen. Ramen may be hot in the US but it's in decline in Tokyo http://t.co/FhYwQ2y7PS"

— Dave Chang (@davidchang) August 11, 2014
@davidchang @ivanramen The weak will fail. The strong will survive, leaving a ramen legacy for future generations to enjoy.

— Gary Smith (@citypainter) August 11, 2014
@davidchang ramen will always be a solid buy. If I ate 360 bowls in a year it would be ho hum too

— Matthew Jacobs (@mattyjakes) August 11, 2014
Pretentious-like saying tofu going away. MT @davidchang: Not just ramen "The ramen boom has ended," says @ivanramen. http://t.co/Vh9KpFqdHo

— A Famoodie Mama (@famoodiemama) August 11, 2014
RELATED: Momofuku Noodle Bar to Celebrate 10 Years of Game Changing with Greatest Hits Menu
WATCH: Ivan Orkin Teaches Nick Lachey How To Slurp Ramen
Have a tip we should know? tips@mediaite.com