People Magazine Got It Wrong: Here's Who Should Have Been Named #SexiestChef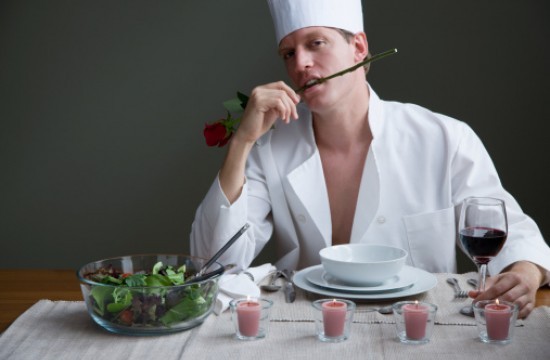 Alright friends, let us get down to it: we don't like to nitpick a list of attractive men, but we have a bone to pick with People's choice of "sexiest chef."
First of all, we were so swept up in, we don't know, life, that the news that People even adds chefs to the its stupid list of sexiest men. (Chris Pratt snub, y'all.) Evidently, as FWX informs us, this title has been around forever: "Previous recipients of the title include Jamie Oliver, Thomas Keller and Rocco DiSpirito." Phew!
But here we are to be informed that the Chopped judge Marc Murphy is holding a title we didn't know existed, and we beg to differ.
BIG Thank you @peoplemag for including me in the sexiest man alive issue!! #sexiestmanalive #sma #sexiestchef pic.twitter.com/7cJRgdjg1q

— marc murphy (@chefmarcmurphy) November 20, 2014
And yes, this is a conversation we've had very often.
We know that People magazine is well, the magazine of women slightly older than us, and slightly more married than us, and slightly more middle America than us. (Hey, we don't judge!) (Let's face it, when do people under the age of 30 read People if not for when People's "Sexiest Man Alive" comes out each year and when getting manicures?So a run-of-the-mill, all-Americana type of chef is going to play very well with People's audience. But we are a slightly different audience: younger, rowdier, dirtier, and more likely to be eating potato chips and drinking wine in bed. (Adulthood be rough.)
So give us our tatted-up bad boys who still want to cook us a mean bolognese and take us home to his mother. Give us the Alyssa Shelasky-esque type of chef fantasy, People! Give us dirty sex dreams covered in chocolate and whipped cream!
So you know, here's who we'd rather see cover the pages of People magazine, that one time a year we're willing to browse it at an airport.
As People does, we too have very rigorous standards in order to meet The Braiser's #SexiestChef title: That they are sexy. … And that they meet our sexy standards. … And that they like, cook and stuff. (We may have also used another friend's very old Tumblr of "chefs that are babes" to help us brainstorm. You will never look at Ryan Gosling's "hey girl" ever the same.)
Who are we kidding, let's just look at some pretty men, shall we?
[imageviewer id=3200]


[Twitter, People, FWX, Chefs That Are Babes]
RELATED: PHOTOS: Things We Learned While Searching For Nude Chefs On The Internet
If You Really Love Hot Girls (and Potatoes), There's a (NSFW) 2015 'Hot Potato' Calendar
PHOTO: Adam Richman Poses Nude(ish) For Cosmo UK
Have a tip we should know? tips@mediaite.com