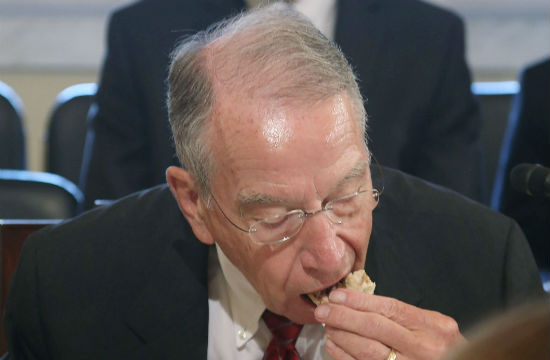 In addition to encouraging us to buy our steaks at Walmart, the USDA is taking some other brave stances to promote healthy eating. For one thing, on Monday, they tweeted out in support of Meatless Mondays, a program started in conjunction with the school of Public Health at Johns Hopkins to encourage a modicum of meat reductionism in America.
"Our goal is to help you reduce your meat consumption by 15% in order to improve your personal health and the health of the planet," the program's site explains.
"Wow," you're thinking. "Good on you, USDA. This totally makes up for Walmart steaks." Us, too!
Of course they were also slammed by various organizations, including the National Cattlemen's Beef Association, but no slam was quite as questionable in judgment as a tweet from Iowa Senator Chuck Grassley (what a farm-y name!). He posted a response saying that was going to consume a DOUBLE helping of meat on Mondays to "compensate for stupid USDA recommendation abt a meatless Monday."
We polled 100 14-year olds asking how responsible they thought it was for a US senator to call a federal department "stupid" on Twitter and they said he was an idiot.*
Of course, he's since redacted the tweet, but not before our old friends PETA pounced on it!
"We're taking bets (place yours in the comments section below) on how long it will take Sen. Grassley to succumb to heart disease, diabetes, cancer, or some other meat-related disease," they wrote on their website.
First, let's be clear: we're pretty sure meat doesn't actually cause every disease afflicting mankind. But despite the fact that this is America, and we were founded upon our delicious delicious steaks, it would probably be a good idea for Sen. Grassley to try a vegetable one day. A green one.
*No we didn't, but ask the closest 14-year old and they will tell you that Twitter follows you around, Senator.
Have a tip we should know? tips@mediaite.com