Pippa Middleton Is A 'Real Foodie' Who Sneaks Pig Cheeks Past Her Picky-Eater Friends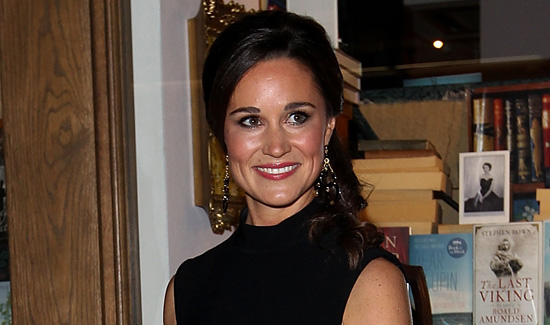 "I'm a real foodie – something, I think, not a lot of people know about me." Thus begins Pippa Middleton's first-person response to the not insignificant number of critics lobbing scorn on her upcoming tome on entertaining, Celebrate.
While it's not explicit, Middleton's essay in The Telegraph reads as a somewhat defensive response to reviews like the New York Post's, which described the world's most famous little sister as a "down-market Sandra Lee".
Other things we learn: she's successfully cooked "slow-braised pig's cheeks" for her finicky friends and "pigeon-breast salad and venison stew also appear regularly on [her] dinner-party menu."
And a part-time foodie, Pippa is not. She's actually worked in a kitchen, you see.
I learnt the pigeon-breast salad when I worked as a kitchen assistant for a few months at a pub in Berkshire before I started university… I learnt so much in that kitchen, and many of the pub's dishes are scribbled in my recipe book: muntjac ragu, rabbit casserole, and a divine lemon tart. I reached the dizzy heights of chief "ciabatta roll-maker", stuffing ox tongue and horseradish into baguettes every lunchtime.
But if that's not enough to sway one's culinary distrust toward someone who received a $600,000 advance for a first-time party planning book, the world should know that, indeed, someone out there once hired Middleton to be an actual cook.
I was once hired for a week as a cook in Scotland. Every day, I cooked a full English breakfast, a picnic lunch (everything was homemade, even the Cornish pasties), afternoon tea, children's tea and then a three-course dinner.
If that's not worth $600,000, we don't know what is.
Have a tip we should know? tips@mediaite.com