Pittsburgh's Conflict Kitchen Closes (For Now) Due to Death Threats Over Palestinian Food Wrappers
Conflict Kitchen Receives Death Threats, Closes (For Now)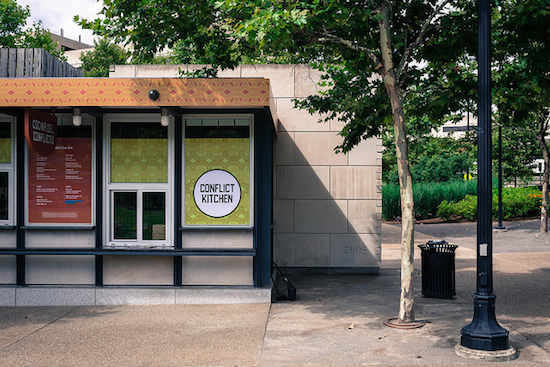 It's been a muddle-your-way-through-the-issues sort of story from the controversial Conflict Kitchen, but you know that when death threats get involved it's never a good thing.
Conflict Kitchen's MO has been to highlight and serve food from countries with which "the United States was in conflict." Naturally, serving Palestinian food with wrappers with quotes and perspectives from Palestinians living abroad and in the U.S. put the restaurant in the middle of a heated debate. And now the restaurant has closed temporarily to deal with incoming death threats. Said Conflict Kitchen in a statement on Facebook, "We have received a letter today containing death threats and we will be closed until the credibility of the letter can be established by the Pittsburgh police. We hope to reopen shortly."
And sure, the restaurant's wrapper is not exactly puppies and rainbows. You can check out the full wrapper via the Inquisitr; it doesn't just cover marriage and dating but also Palestinian settlements, resistance, and Israeli violence. And the restaurant, in a Facebook post, blamed the media for perpetuating the anti-Israel message in said wrappers, saying it "shows a distinct lack of research into what is actually on the wrappers, a reinforcement of right-wing accusations, and thoughtlessness about our current situation."
Some believe that the restaurant is simply trying to rile up some controversy in the politics between Israel and Palestine. But the restaurant insists that it's not trying to be anti-Israel, it's simply trying to bring a lot of different voices to the public forum. One of the founders, Jon Rubin, said to CBS when the Palestinian iteration of Conflict Kitchen opened, ""We are there to be a forum to engage Pittsburghers, or customers in the general public in conversations that they might not ordinarily have." In a blog post, the restaurant elaborated further: "We have demonstrated this in the past by presenting the food, culture, and viewpoints of Iranians, Afghans, Cubans, North Koreans, and Venezuelans … We believe that presenting the viewpoints of Palestinians promotes understanding of Palestinians." (Sounds a bit like Anthony Bourdain, does it not?)
Conflict Kitchen had also scheduled to have proxy "phone chats" with Palestinians living abroad. When the Palestinian iteration opened, there were upwards of 300 customers; now, reports say that people are taping letters of support to the restaurant in hopes that it will re-open.
[Post-Gazette, Inquisitr, CBS, WTAE]
Have a tip we should know? tips@mediaite.com