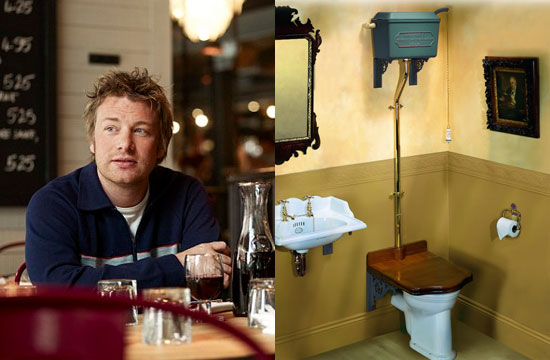 Guys, stop stealing toilets from Jamie Oliver. Seriously, knock it off. The Naked Chef needs his toilet fixtures for toilet things.
Why do we know that Oliver is a victim of chronic toilet thievery? Because he said so, in an interview with the UK's Radio Times. "Every restaurant of mine has the old-fashioned Thomas Crapper toilets because I've always thought they look wicked," he told them, according to the Daily Mail. (If we can be five years old for a second: hee hee, Thomas Crapper makes toilets.)
"But they're really expensive and we've had to have the handles and flushers welded on because people were unscrewing them and nicking them.
"Honestly, some people were coming out for a meal and going home with half a toilet. Bonkers!"
He also revealed that people tend to steal about 30,000 of his custom-designed linen napkins — per month. "I have noticed things in this recession," he sighed, and pointed out that you could technically buy a pack of four napkins for £8 instead of buying stolen ones on eBay.
But the best part about this article — besides the nascent poop jokes — is their collection of Tweets from people who steal Jamie's napkins:
Other diners boasted openly on Twitter about stealing his napkins, and even posted photos of their ill-gotten wares.

One said: 'Yeah, I stole a napkin from Jamie Oliver's restaurant the other day. Rebel.'

Another added: 'Yup… We have a Jamie's Italian napkin too. Seems like everyone likes a souvenir.'
Notably, no one has tweet-boasted about stealing Jamie Oliver's toilet fixtures, because that would be a really weird thing to admit to the public.
Have a tip we should know? tips@mediaite.com