Popular Los Angeles Café Allegedly Kicks Out a Group of Women for Being Muslim
If you live in Los Angeles or have friends who do, you undoubtedly have been to or have heard about Urth Caffé. It's the coffee place with sandwiches and salads that's super L.A. and you go there when you want to feel like a true L.A.-er. According to Sara Farsakh, who posted her account of the incident on Facebook, "what began as a night out with some friends ended as a painful and embarrassing reminder of what it is like to be visibly Muslim—even in liberal California."
Farsakh says that she was at the restaurant for dinner, and some of her group had just ordered dessert and coffee when she and her friends were suddenly asked to finish up and leave the restaurant. Their food and drinks had just gotten there, and they said they would not be able to leave within then ten minutes the employee had allotted them. The employee cited a restaurant policy that asks that customers give up their tables after 45 minutes if other patrons are waiting. Farsakh claims that the restaurant was pretty much empty (and took a video to prove it, and that a table full of white women who had been there much longer had not been asked to leave. A security guard who came over to enforce the policy also supposedly said that he had never been asked to do so before.
The video on Facebook has been viewed almost 250,000 times, and the entire post has been shared almost 3,000 times.
Urth Caffé's owner, Shallom Berkman is disputing the claim, and told ABC News, "Everybody wants an outside seat. We have this policy to make things fair and accommodate everyone who wants to enjoy Urth Cafe." He added, "My wife is Muslim and I'm Jewish. We like to say we're a sign of world peace…We're very sorry that she has this feeling that this was something racist, but that is just not the case."
He is offering her a meal on the house, but damage has already been done on both sides. The Facebook post has had such an impact that Yelp has blocked people from reviewing the establishment. Facebook commenters have expressed outrage; many posters say they'll never go back to Urth Caffé.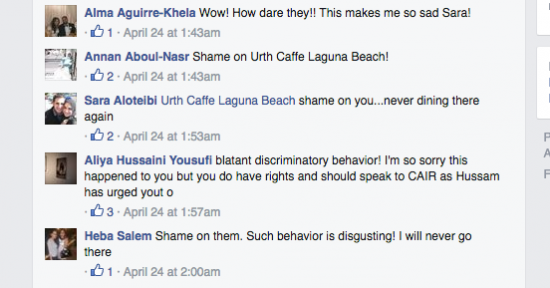 Others have shared similar experiences with the restaurant: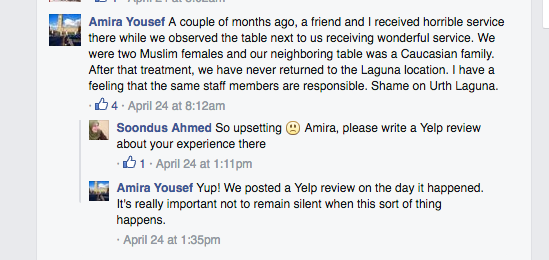 We'll keep you updated as new information becomes available.
[image via Facebook]
Have a tip we should know? tips@mediaite.com