Possible Daniel Boulud Reality TV Shows, Dinex Connections, Revealed in Sony Emails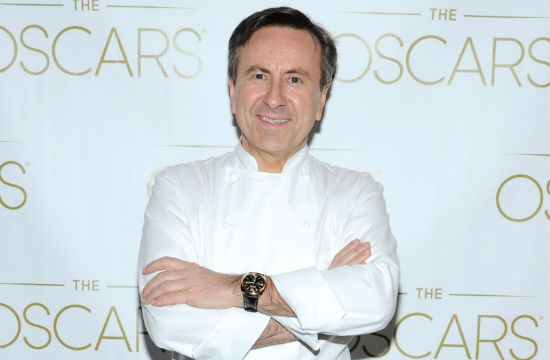 In the first part of our look at the role food plays in the Sony email leak, we introduced you to Sony CEO Michael Lynton, who corresponded with his sister, Lili Lynton, about developing a diet chocolate bar. The reason she knows so much about the industry? She's the co-founder of The Dinex Group, which operates chef Daniel Boulud's restaurants worldwide.
Several email threads revolve around the chef and his business, including the pursuit of venture capital for the company's online purchasing system, beta-testing for the celebrity-backed restaurant booking app Reserve. And this:
Last March, Michael Lynton introduced his sister to Holly Jacobs, producer of The Queen Latifah Show and Dr. Oz, to give her "the real scoop on TV chefs." (Alas those emails aren't in the archive.)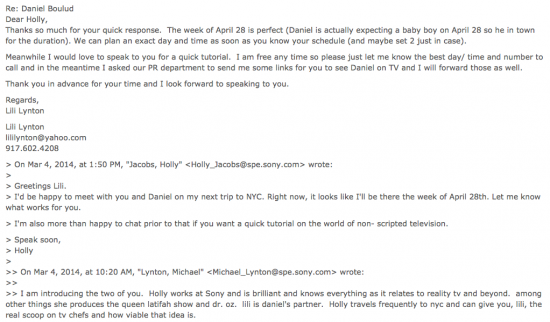 The connection led to a brainstorming session for several unscripted reality television shows, which are probably in Boulud's comfort zone since he previously hosted three seasons of the underrated After Hours With Daniel Boulud which aired from 2006-2008. The "fun, fascinating, incredibly helpful" Sony-Boulud session produced questionably impractical ideas for shows about a super food truck, and a pop-up French diner, something called Fish Out of Water: Paris, Texas, which would be a dream come true if green-lighted.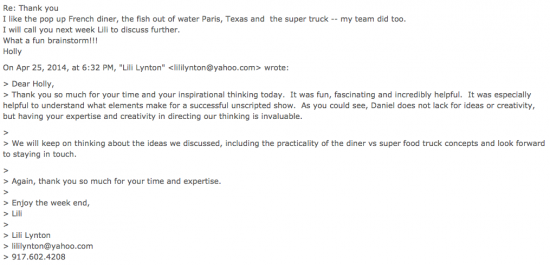 A French diner called Paris-Texas, has been a long gestating idea for Boulud, who told The New York Times in 2009 he'd been trying to develop the concept prior to opening DBGB. He further elaborated on his "dream diner" while speaking with Eater in 2011.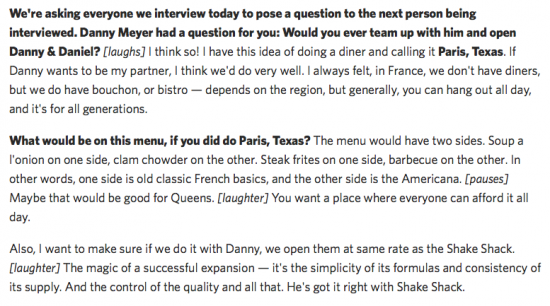 Lili Lynton also brought a business proposal to her brother, seeking venture capital funding for Dine Market, the online vending system utilized by Daniel Boulud's restaurants. "There is the opportunity to grab a share of the $100 billion restaurant purchasing market nation wide, how much I am not yet sure," she told him, and also asked if she should bring in Thrillist honcho Ben Lerer, and Benchmark Capital.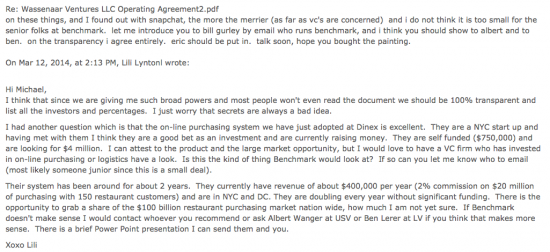 Meanwhile, Shari Redstone, co-founder of venture capital firm, Advancit Capital, was pouring money into restaurant app Reserve, which she described as "started by the guys who started Uber, that is going after high end heavily booked restaurants. It is a neat concept that costs the restaurants nothing and provides additional revenue opportunities and other benefits at no cost." Redstone reached out to Michael Lynton to see if his sister would bring Daniel Boulud's restaurants into the app's beta-testing.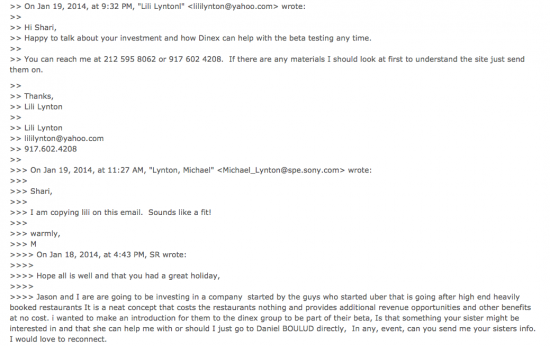 As Eater reported earlier this year, Reserve raised $15MM in Series A funding from celebrity investors like Will.i.am and Jon Favreau, and when the app debuted last fall it does feature all the Boulud restaurants.
Have a tip we should know? tips@mediaite.com