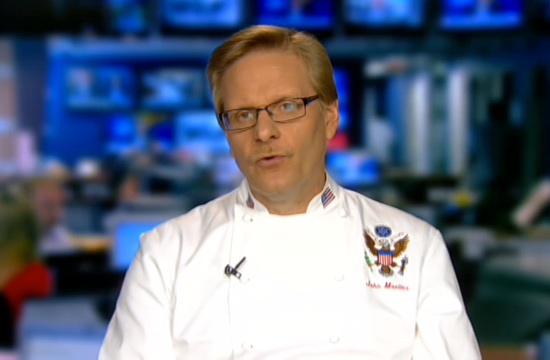 You know the 24-hour news networks are stretching for new content in the wake of the government shutdown when they start bringing in the White House chefs to comment. Because if anyone should understand a government shutdown from the inside, it's a chef, right?
Just kidding, former White House Chef John Moeller was on FOX News to promote his new book, Dining in the White House: From the President's Table to Yours. (Sorry, no Sam Kass sightings for today.) Moeller, who cooked for both George H.W. Bush and George W. Bush's presidencies and President Bill Clinton, is quite humble and softspoken when told by the overly enthusiastic FOX host, Jonathan Hunt, "What a life!" in response to his work experience. (Seriously dude, chill out. We know you're cramping for anyone new and interesting to talk about politics right now, we get it. Don't scare the poor guy who willingly came on your show.)
Still, while we're at it, let's get a White House chef to comment on the shutdown, because why not? Hunt, clearly needing to get his political jollies on, asked Moeller whether the presidents changed their diets during "times of turmoil." As in, maybe right now during this whole whole government shutdown thing (in case you live under a rock.) "Well, you can't make a decision on an empty stomach, so comfort food is usually a good thing to pull back on," Moeller responded. But there was no Frito pie or fatty foods to be had in the White House, because Moeller made sure they weren't feeding the Commanders in Chief any Fatty McFatterson meals. (Because no one makes good decisions after Frito pie, right Bourdain?)
So let's all speculate on what comfort foods President Obama is indulging in while the government crumbles around him. Besides the hoagies, you know. We know it can't really be broccoli that he's eating right now.
Oh, and President Clinton loved enchiladas.
RELATED:
LIST: Here's What Happens to Your Food When the Government Shuts Down
Bryan Voltaggio Refuses to Give Free Pizza to Congressmen Until They 'Get [Their] S*** Together'
José Andrés's Citizenship Delayed, Plans to Give Sandwiches to Furloughed Workers
Have a tip we should know? tips@mediaite.com