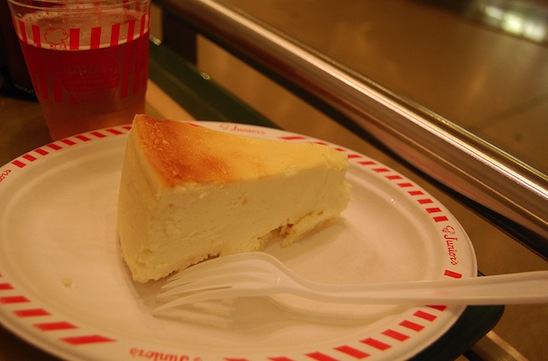 Well, we can't deny the power of a good cheesecake — and Junior's in Brooklyn is the best. So it's no wonder that President Barack Obama chose to make a little photo op at Junior's after speaking in Brooklyn. But you can't pretend like Junior's is the hippest place in all of BK, OK POTUS?
Obama Foodorama reports that Oabama was quite the charmer at Junior's; he spoke to every patron and even signed the giant pumpkin up at the counter. He bought two cheesecakes, one New York Original and one strawberry, and some black and white cookies for his daughters. And oh, very conveniently, there was New York City mayoral candidate, Bill de Blasio, as well. Obama is said to have walked around to customers, asking if they knew "their next mayor." Schmoozy schmoozy schooze.
Even POTUS loves Junior's. pic.twitter.com/H4f4wdJVI7

— Bill de Blasio (@deBlasioNYC) October 25, 2013
All in all, it was your standard photo op — but we are still giggling a bit over Obama's words to the Crown Heights high schoolers he spoke to earlier in the day. He said to them, "Brooklyn is blowing up right now, … When I was living here, Brooklyn was cool, but not this cool." As Grubstreet rightfully points out, Junior's isn't maybe the coolest place in Brooklyn to have a photo op. But then again, we'd cringe to see POTUS intermingling with the hipsters of Brooklyn. Stay away from Bedford Ave., POTUS; far, far away.
RELATED:
Lady Chef Stampede: Cristeta Comerford, The White House Chef
WATCH: President Obama Needs His Comfort Food, Because We're All Screwed
Marc Vetri Hangs Out With the President and Demands Congress Set a Budget (No Biggie)
Have a tip we should know? tips@mediaite.com