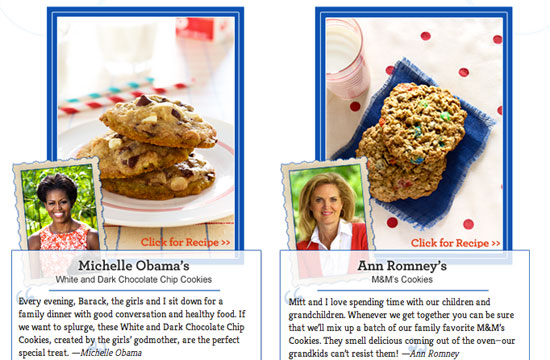 Ever since the 1992 presidential election, Family Circle has held their own debate between the wives of the candidates, and the husband of the winner of said debate nearly always takes the White House in November. But instead of fighting over whose garden is prettier (Michelle Obama) or whose horses dance better (Ann Romney), the First Spouses fight over who has the best cookie recipe.
The best thing about this year's cookies, however, is how much you can learn about their husbands simply by looking at the recipes. To wit:
Michelle's White And Dark Chocolate Chip Cookies
Contains both black and white chocolate, just like Barack Obama.
Has two sticks of butter, which represents the richness of Obama's voice.
The recipe also allows for mint chocolate chips, which is a hidden Illuminati symbol that Obama wants to mint more money and increase the power of the Federal Bank. OH MY GOD WE NEED TO BUY GOLD.
The chopped walnuts are indicative of his  foreign policy initiatives driven by international realism. How, you ask? Because he will chop your nuts if it serves American interests abroad, occasionally via Hillary Clinton. 
Notably described as a "splurge" treat by the anti-obesity-driven Michelle. Because cookies are still a sometimes food.
Ann Romney's M&M Cookies
Contains plain rolled oats, vanilla, unsalted butter…you get the idea, Mitt Romney is super white.
Has one tablespoon of corn syrup, which are also two adjectives that can describe Romney's stump style.
The "M" in M&M's can stand for a lot of things that are Romney-related: Mitt, Mormon, Michigan, Massachusetts, money, Mexico (sort of), missionary…
The oats make it friendly for horses names Rafalca.
Also contains crunchy peanut butter, which is good for feeding your dogs before you strap them to your roof.
The butter must be soft and pliable, much like his stances on certain aspects of domestic policy such as universal health care.
We're off to eat some cookies. It's a better way of choosing our candidates than watching really bad ads run by super PACs.
Have a tip we should know? tips@mediaite.com