PETA Erects Vegan Billboard Across From Publican Quality Meats, PQM Stays Classy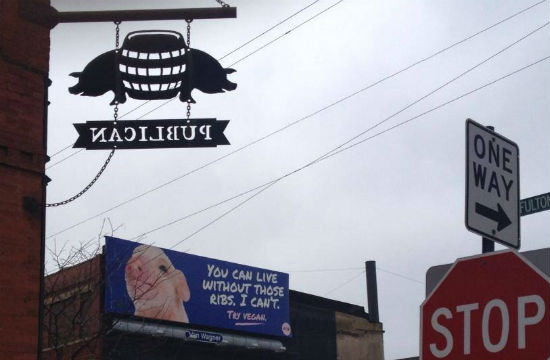 (Image via Publican Quality Meats Facebook)
In a lengthy Facebook post entitled "We Eat Meat: Notes on Humanely Raised, Ethically Slaughtered Heritage Breed Animals," the team behind Publican Quality Meats addressed PETA's choice to set up a billboard for their Go Vegan campaign, which depicts a suckling pig with the words "You can live without those ribs. I can't." across the street from the shop.
Publican responded, in part:
"Anyone who has read this far and thinks we're going to mock or belittle PETA or their mission will have to go shopping somewhere else. We respect any serious and intelligent personal philosophy and admire PETA's knack for provocation and creative chutzpah."
They also went on to post an interview with "Cosmo" and "D," Publican Sous-Chef and PQM manager respectively, about a recent trip planned for the team to one of the farms from which they source their proteins, complete with a live viewing of a slaughter.
Said Cos of his own personal experience slaughtering lambs:
"It becomes…it's hard to say…ritualistic, kind of religious. You calm the animal. We actually said a prayer to each one…We slit their throats. It's about making it as quick and painless as possible. That may not sound quick or painless but it is very quick, especially if the animal isn't being herded into a chute and can smell and hear what's happening.
You can read PQM's note in its entirety here.
[Facebook]
RELATED:
South Dakota Ranchers Kick Joan Jett Off Their Macy's Parade Float for Being a Vegetarian
Bourdain Backs Seal Hunting, Slams Chefs Boycotting Canadian Seafood Products
Court of Appeals Rules that California Can Ban Foie Gras Production
Have a tip we should know? tips@mediaite.com