WATCH: Ted Allen & Co.'s Top 3 Moments from the Queer Eye for the Straight Guy Reunion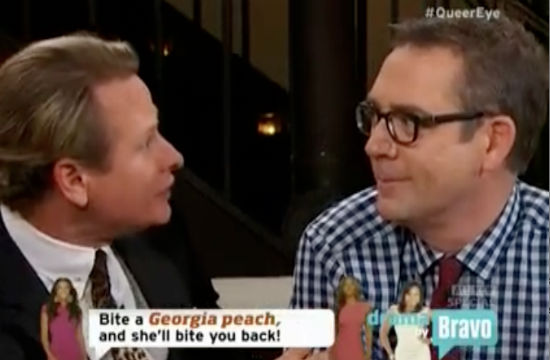 Probably get out some tissues. There will be laugh-crying, and there will be cry-crying. In case you missed the momentous occasion that was the ten-year reunion of Queer Eye for the Straight Guy on Bravo last night, we've taken it upon ourselves to bring you Ted Allen and company's three best moments.
First, let's all have a hearty chuckle about how old Ted is.
And if you've ever doubted the positive effects of exfoliating, please observe the Fab Five's faces, virtually unchanged by the sands of time.
One of the more poignant moments of the reunion came when Andy Cohen asked guys why they suspected the show struck such a chord. If you, like many millennials of your generation, have forgotten what pre-Will and Grace America was like, sit at the feet of the nearest grown-up, preferably on a carpet square, and ask them. Or just check out this clip:
Okay, okay, last tear-jerker! Please watch Carson Kressley describe the tenderness with which bros and queers were able to come together for the first time on national television, inspiring non-TV bros and non-TV queers to stop being so skittish around each other in non-TV life. Isn't that cool? Isn't it totally rad that a Bravo reality show was at least in part responsible for mainstreaming queerness? WE KNOW. We've been saying it for for-literally-ever! Also, don't get your hopes up for a twenty year reunion because bahaha Ted Allen is so old he'll probably be DEAD BY THEN. (In actuality, he'll probably just have moved on to even chicer frames.)
RELATED:
Anti-Gay Barilla Pasta Tapped Ted Allen for Nationwide Campaign Back in the Days of Queer Eye
Ted Allen Gets Engaged On The Heels Of DOMA Decision
Ted Allen's Rant Against Food 'Trends,' Plus He Predicts The Next Big Trend
Have a tip we should know? tips@mediaite.com