Rachael Ray And Gordon Ramsay Are Both Powerful Celebrities According To Forbes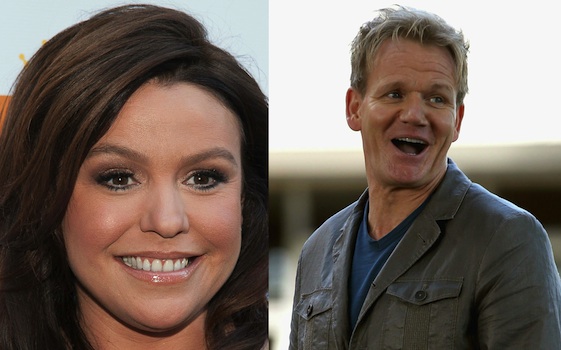 This morning, Forbes Magazine released their annual 100 Most Powerful Celebrities list. In a sort of surprising move, Oprah regained her spot as Queen of the Celebs (she may actually be a queen, but what's she done this year?), but more importantly, two cheftastic food stars cracked the list, too. Rachael Ray came in at 69th and Gordon Ramsay ranked 77th on the list.
This is the first time Ramsay's been deemed powerful enough to make the cut, so clearly Forbes doesn't include the use of expletives in their ranking. And while both he and Ray rake in the big bucks, it took more than dollars to make this list. Forbes has developed a complex algorithm which ranks celebs based on four categories: Money, TV/Radio, Marketability, and Social ranking.
Ray has made the list before, claiming 79th in 2009, and bumping up once spot to 78th in 2010. Perhaps it's no coincidence that she's moving on up the same year that Oprah's owning the pack — Ray's show is produced by Harpo. About her television success, Forbes writes, "Ray is more than just a TV host, she's a lifestyle brand."  Which made us think, if Rachael Ray is a lifestyle, what does that make Ramsay? A hobby you wouldn't tell your mom about?
Back in 2009 Wolfgang Puck also made the list (ranking 95th), but he presently doesn't have a morning talk show to elevate his mere food-empire-owning status to that of a celebrity super-power. (Attention networks: hit us with a Puck show next year?).
Have a tip we should know? tips@mediaite.com