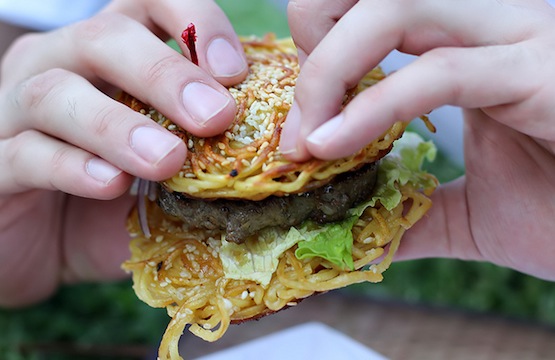 No more waiting in crazy lines for ramen burgers at Smorgasburg, we guess! (Until everyone else finds out about it — crap.)
According to local neighborhood newspaper, Tribeca Citizen, the Ramen Co. restaurant has officially soft-opened in the hood. And yes, the three things on the menu are ramen, bento, and ramen burgers. And while Tribeca Citizen shares that prices are lower for now, being brand-new and all, you'll still get the good stuff — well, ish. The early Yelp reviews of the joint are mixed (but come on guys, they've been open for a minute!).
"Ramen burger was a huge disappointment… the meat is way overcooked and not flavored like japanese hambaagu which is more like a japanese meatloaf. This really just tastes like a mediocre burger with a bun replacement. I couldn't even taste the Japanese sauce much."
"The broth [of the Hakata Shio Ramen] was a light creamy tonkotsu broth, not too salty and just right for me. Doesn't hurt to add shichimi seasoning. There's sliced scallion, plenty of kikurage in the bowl. Pork belly was salty, some parts were cold as it was not char siu style. Fried onion bits in the broth gave the soup a nice flavor. Noodles were firm and chewy, just a bit underdone. There was just the right amount of broth in the bowl, slurped it to the last drop."
"I ordered the original ramen burger ($8) with bacon and cheese ($1 extra for each). The ramen pattys had the perfect amount of al dente. The soy sauce and onion sauce added to the flavors. I would suggest perhaps a better patty."
"You won't get that Ippudo experience that makes a $17 bowl of noodles feel worth it, and if you want to nitpick, I think RAMEN.Co hasn't gotten the noodle texture quite right yet. Luckily, $11 for a bowl of delicious ramen to sit in your belly while you charge through spreadsheets does feel worth it."
So, uh, ramen burgers for all! But don't worry, Brooklyn folks. You can still wait in line and fight hipster crowds get ramen burgers at Smorgasburg, according to Facebook.
RELATED:
Oh Jesus, There Are New Ramen Burgers Coming Your Way
Burger Orgy: The 11 Biggest Ramen Burger Ripoffs of 2013
WATCH Chrissy Teigen Eat A Ramen Burger, Because It's Friday
Have a tip we should know? [email protected]