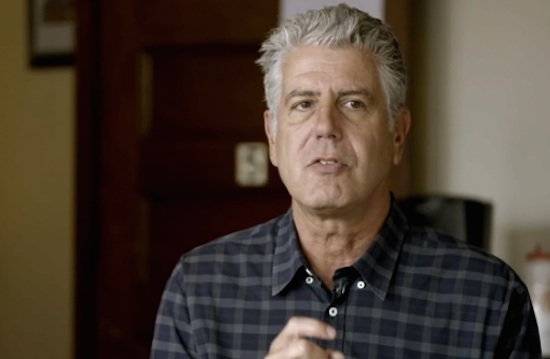 It's quite endearing, as only a "bad boy chef" turned "television star" (and secretly world's cutest family man) can be.
Don't hate us for the bad boy description: it's on Anthony Bourdain's cover of Wine Spectator magazine, of the March issue. In his feature, Bourdain talks about his past (""I went right to work for as much money as I could get, with friends who did the sort of things that I liked to do, which was drugs"), his present ("When I am back in New York … I'm home, I cook breakfast for my daughter, I walk her to school and pick her up when I can"), and his future. Oh, and how both his wife, Ottavia, can totally kick his ass. How Bourdain describes his wife is how we and all women should aspire to be:
"She does jiujitsu three or four hours a day, six days a week," Bourdain said. "She's not sitting at home filing her nails or shopping until I come home. She's just fine choking grown men unconscious."
Ha!
But it's Bourdain's quite humbling remarks on his legacy that has us all a little wise and stronger today. From Wine Spectator, how Bourdain hopes to be remembered some day:
"Maybe that I grew up a little. That I'm a dad, that I'm not a half-bad cook, that I can make a good coq au vin. That would be nice. And not such a bad bastard after all."
We'd like to be remembered that way as well. You can read Wine Spectator's feature of Bourdain online if you're a subscriber, or in the newest issue.
[Wine Spectator h/t People]
Have a tip we should know? tips@mediaite.com