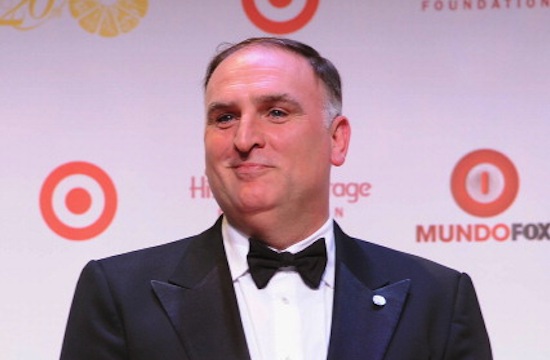 Though not the typical Thanksgiving tribute we would have expected, we applaud Jose Andrés' op-ed to enlighten us on what cooking fuel and clean stoves really means for the developing world. (Bet those a**holes who bought a $35,000 Thanksgiving dinner might feel a little foolish now.)
Andrés took to TIME magazine where he (along with the likes of Kris Jenner and John Kerry) gave thanks for "that flame" that allows him to cook for his family. "For so many people around the world creating fire, finding the fuel, is an incredibly difficult effort, and it is having a heavy impact on their lives," he writes, adding that fuel can not only cost families in the developing world nearly 60 percent of their income, but can even be deadly. (According to the World Health Organization, Andrés says, four million people die each year worldwide from indoor cooking smoke.)
And sure, maybe the op-ed reads slightly like an advertisement for the Global Alliance For Clean Cookstoves, of which Andrés is the culinary ambassador. But hey, after reading about gator turduckens and Thanksgiving sushi and 1-percent turkey dinners, we sort of feel like d*cks for not realizing the importance of clean cooking fuel around the world. Because, you know, there are real problems in the world. Andrés concludes:
But most importantly, I'm thankful that clean and improved cooking exists. That energy like liquid petroleum gas and solar cookstoves are within reach and can be affordable for all. With all of the problems our world is facing and all of the complicated solutions they have, a humble cookstove and cleaner fuel combinations can change the lives of hundreds of millions of people. It's one simple solution for us to take.
[TIME]
RELATED: WATCH: Jose Andrés and Ellen Degeneres in the Very Best, Most Hilarious Cooking Segment Ever
Jose Andrés' New Fast Food Concept Will Be Called Beefsteak, Will Not Be Beefy
Is This the Most Dramatic Chef TV Show We've Ever Seen?
Have a tip we should know? tips@mediaite.com