When Real Italians Test Nigella Lawson's 'Italian-Inspired' Cookbook, No One Wins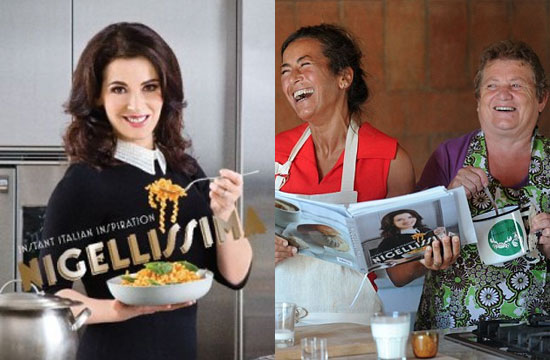 Who knew that culinary imperialism was also a Western problem? Staying true to her British heritage, Nigella Lawson imperialized the focaccia out of Italian cuisine in her latest cookbook Nigellissima. We know this to be true, because the Daily Mail flew to a beautiful villa in the Italian countryside and had two legitimate Italian cooks — one with professional experience, one a 65-year-old nonna — test the recipes in the book. The results are as ugly as a meatzza.
By the time that the author gets to the villa, laden with British ingredients unavailable in Italy, Simona Fabrizio and Mariella Serranti "have already discovered myriad Nigella inventions and crazy Italo-Brit confections that no Italian has ever heard of — let alone cooked, served or eaten."
"Who is this Nigella? I have never heard of her!" says Serranti, when confronted with something called Italian banana breakfast bread. "Is she mad?"
What follows is a hilariously demented view of two women, passionate about their culinary birthright, discovering that some British lady has bastardized everything they've ever stood for. We can't do it too much justice here, but this should give you a good idea of why you need to click through and see what else Fabrizio and Serranti had to cook for the sake of journalism:
THE MEATZZA

Of all the recipes in Nigellisima, the meatzza surely has to be the worst. Nigella, who invented the dish, claims her doughless meat pizza is 'seriously delicious' and that teenagers love it — as if that was a recommendation for anything.

Simona and Mariella are completely perplexed by the meatzza. 

'She says to use breadcrumbs or oats, like in meatballs, but we don't put those things in meatballs,' says Simona.


'If she wants to make a meatball-type dish, why not just make meatballs?' wonders Mariella, with the unerring logic of a seasoned cook who does not have nearly 300 pages of a cook book to fill. 

As instructed, the women make a big cake of seasoned mince, flavour it with garlic and bake it in the oven with a mozzarella cheese topping. 

'It's too solid,' says Mariella. 

Simona disapproves of Nigella's instruction to drain the can of tomatoes ('what a waste') before adding to the mix, and both women feel there is too much garlic in the meatzza. 

'And Nigella says to splash garlic oil over it at the end. Again, we have no such thing in this country!' says Simona. 'It's already too greasy and garlicky, so I am not going to do it.'

Nigella says: 'The perfect children's tea.' 

Simona says: 'Awful. Oh, so bad. Too much garlic. I don't think Italian children will go for it. Adults, no.'

Mariella says: 'My teenage nephews would never eat this. Oh no, stop, stop! It keeps coming back on me! I need a digestif.'

In the end, we feed the meatzza to Lui the dog, and even he doesn't like it much.
[Daily Mail via Eater]
Have a tip we should know? [email protected]