'Redolent Memories of the Ardennes': The Best Terribly-Written Pretentious Yelp Reviews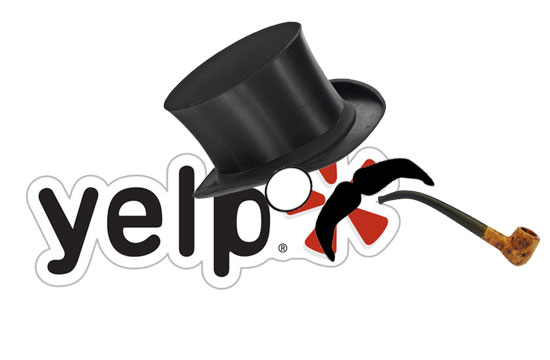 By nature, Yelp! reviewers tend to be an obnoxious group, since a humble demeanor and awareness of their limited knowledge base would fundamentally oppose the purpose of Yelping. But once in a very great while, the Yelp review goes beyond the simple act of proving that one knows better than his plebeian peers, eclipses the belief that their tiny missives could make or break a business, and reaches the gaudy, grandiose heights of true pretension — that rarified place where the Yelp! reviewer believes that, through a complex, seismic internal process that only they are privy to, their turds are refined into beautiful, sparkling diamonds.
These are the best turd diamonds of Yelp.
Note: all reviews are directly quoted from Yelp!.
MOST EFFUSIVE OPENING LINE: 
France glamours with the Palace of Versailles and London shines with the Buckingham Palace. Not to be outdone, Daly City created it's very own Koi Palace.
(Koi Palace, San Francisco, CA)
BEST LONG-FORM ABUSE OF ADJECTIVES
Looking through the pictures of Wisdom's inventive, charming mixologist Erik Holzherr, I am not surprised to note that several of them feature him standing among art collections, because the darker, quieter soul of that world is surely where his memorable, shocking, creative cocktails belong. Lounging in Wisdom for a relaxed birthday celebration, gently cloaked in the sultry lighting sourced from the jewel toned glass holders that dangle from the eclectic chandeliers, we contemplated the couples nestled in the intimate seating coves along the textured walls, luxurious curtains partially obscuring their gestures of longing, and succumbed to the seductive cocktails crafted from (legally potent) absinthe, caramel vodka, smoked black tea, elderflower cordial, heady port, and candied ginger. We lingered for most of the evening, our appetites calmed by small plates of creamy crab gratin, earthy mushroom duxelles, and unctuoushummus, our spirits soothed by the lilting sounds of jazz and house music remastered with hypnotic background beats. For those who prefer their expressions of hedonism in a setting both subtle and seductive, Wisdom is exquisite.
MOST PRETENSION PACKED INTO ONE SENTENCE: 
Redolent memories of the Ardennes countryside drift lasciviously through my mind while I quaff an impeccable Fantome Saison purchased from John's Grocery.
MOST POMPOUS/ELITIST REVIEW
…when I'm sitting and eating my bread in Proustian splendor, I sometimes gaze out the terrace toward the horizon in disbelief, realizing how far I have come from paying four dollars for a mealy and tasteless mass-produced brick of preservatives and refined sugars.
Bezian's Bakery, Los Angeles, CA
THE REVIEW THAT TOUCHES THE FACE OF GOD:
Veal parmesan is as basic as it comes, but when it's done well it's as special as anything can be. that was the case here, a resplendently fat, juicy, tender cut of veal, a flavorful mozzarella and sauce, a little spice, it was heaven, the lost chord of veal parmesan, as silly as that sounds.
Tombolino Restaurant, Yonkers, NY
BEST REVIEW WRITTEN BY A PROBABLE UNEMPLOYED LIT MAJOR
Great is the place that overcomes a heinous cloud of the strongest stench to win my heart. Like the musk of the Kraken in full rut, we tangled with this odious funk on Saturday night while sipping fine cocktails in celebration of my girlfriend's birthday.
RELATED:
The Days of Anonymously Bitching on Yelp Are Over
Chef Leaves EpicTripAdvisor Smackdown To Angry Customer
Ruth Reichl: 'Anybody Who Believes Yelp Is An Idiot'
Have a tip we should know? tips@mediaite.com