Rene Redzepi's Cookbook Plus Diary Plus Selfies Album Now Available For Preorder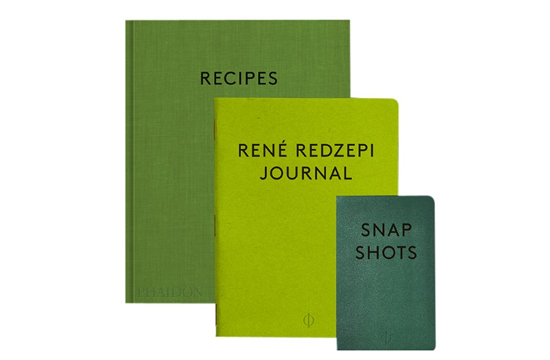 Rene Redzepi's coming out with not one, not two, but three books at once, and you can preorder them on Amazon starting today! A Work in Progress, the followup to his first cookbook Noma, contains recipes as well as a diary of his everyday life (even written out on notebook paper), and "a pocket book of candid, Instagram-style snapshots featuring the influential chef and his team." So, to be clear, Instagram made Polaroids high-tech, and Redzepi has made Instagram throwback. The triad will be released on November 11 of this year, but for a paltry $39.74 you can order one now and forget about it until it randomly appears on your doorstep around Thanksgiving.
Why would you want three books by the chef at one of the world's best restaurants, you might ask? First, there's the obvious set of reasons: to peer into the mind of a man who started the entire Nordic Food Movement, to glimpse the inner workings of a highly unique restaurant, and to stare at pretty photos.
But then there's the second, more legit reason: to make it appear as if you've nabbed Rene Redzepi's Secret Journals. Note above how they appear to be homey, schoolboy-esque journals, the type an English teacher at a 1950's boarding school (or a 2006 Scandinavian bookstore) would hand out. You could keep them lying around your house, casually flipped open to some page where Rene talks about Farmer Soren and his field of mud and potatoes. "Oh, this?" you'll laugh when asked, pouring a cabernet Cortis from a decanter. "Why, yes, Rene gave it to me — we're on a first-name basis, Rene and I — he's so brilliant! Brilliant! Come, let's go look at the horses I got from Bernie Madoff."
Hey, you might as well be a poseur with class.
[Amazon]
RELATED:
Here's A Photo Of Rene Redzepi & Anthony Bourdain Shooting Guns
Rene Redzepi, Danny Bowien, Massimo Bottura, And Dozens More Join Giant Culinary Jam Session
Rene Redzepi Warns 'Success Can Be Dangerous And Limiting'; Reveals How He Overcame Burnout
Have a tip we should know? tips@mediaite.com