Reports: Charlie Trotter Had Inoperable Brain Aneurysm, 'Felt That He Didn't Have A Lot of Time Left'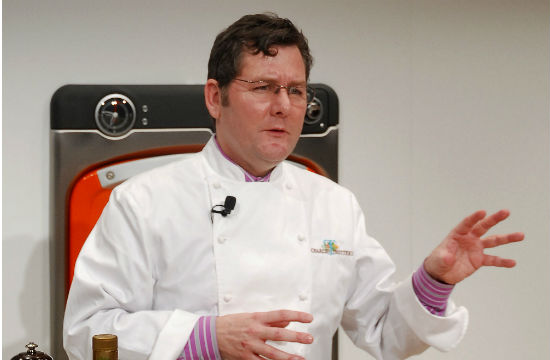 Though the cause of Charlie Trotter's shocking death yesterday has yet to be determined, the Chicago Tribune is reporting that Trotter, the famous chef who retired in 2012 after 25 years in the kitchen, had an inoperable brain aneurysm which may have contributed to his death.
According to his friends and longtime coworkers, Trotter's doctors diagnosed him with the condition, which weakens the walls of arteries and veins in the brain. They recommended that he should not fly, work at high altitudes, or exert himself too much, which would increase pressure on his brain. (Trotter recently flew to Wyoming to speak at a culinary conference in Jackson Hole, and returned to Chicago this Sunday.) The Cook County Medical Examiner's office added that Trotter had a history of seizures and strokes, and that the death so far did not appear suspicious.
His longtime friend and sommelier, Larry Stone, told the Tribune that Trotter realized his aneurysm was a "time bomb, and he felt that he didn't have a lot of time left":
"It was inoperable, and it was not something that could be repaired; it was deep inside the brain…It was obvious he had problems and he had some seizures. It's a condition that had worsened in the last few years but it was something he had for quite a while."
But Trotter was not the type of person to ask for sympathy, Stone said.

"He said when your time comes, it comes; he didn't dwell on it," Stone said. "I don't think it made him very happy to know that he had a condition that would incapacitate him in some way…He never wanted anything to interfere with his craft."
An autopsy is scheduled for today to determine cause of death, according to the TODAY Show:
Visit NBCNews.com for breaking news, world news, and news about the economy
RELATED:
BREAKING: Charlie Trotter Dead at 54
http://www.mediaite.com/chefs-react-to-charlie-trotters-death/" title="Chefs Eulogize Charlie Trotter on Twitter
WATCH: Behind The Scenes At Charlie Trotter's Farewell Gala
Have a tip we should know? [email protected]
---