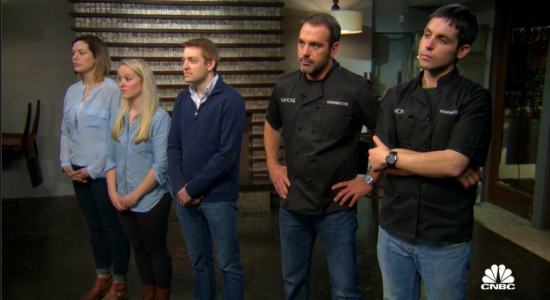 Last night on Restaurant Startup, two teams came to Joe Bastianich and Elizabeth Blau with concepts that would take their hometown dining options to the next level. First, we meet Chris and Danielle Bjorling, and Stephanie Miller of The Copper Hen in Minneapolis. The Copper Hen is a farm-to-table restaurant and cakery that serves homemade comfort food. Danielle and Chris are married and are partners in the business, and Stephanie is the chef they hired. They're on track to have a great year, but their waits are long so they want to expand.
They're looking to add a rooftop restaurant and bar space on top of their existing restaurant, and are asking for $200,000 for 15% equity in their business. The food is delicious as always, but Joe is concerned because they look like "the Twin Cities version of Abba." He thinks they seem a little bit too "square" to run a chic rooftop bar.
The next restaurant concept comes from Yianni and Peter Karapanagiotis, brothers from Cape May, New Jersey. They have three restaurants and are looking to open a fourth. Their new restaurant, Shamone (which has already been successful as a pop up) is a 15-course tasting menu for $40. If that sounds crazy, it's because it kind of is. They say it works because while some of the courses are more costly, others are things like hummus and it balances it out. The problem with Cape May is that it's a seasonal town. Restaurants have two to three months of the year to do all of their business. they say the neighborhood they're looking to open in is more of a year-round community. Elizabeth liked the concept for tourism, however, and doesn't think it will work in a more residential neighborhood. Joe is concerned because their concept doesn't really resemble any of the other restaurants in Cape May.
Obviously they pick The Copper Hen, and they tell them to sex up the menu.
At the pop up space, everything is kind of a mess. Danielle won't stop saying they need to serve chicken pot pie, which, while delicious, is probably the least sexy food item ever. Antonia Lofaso comes by for a visit, and tells them that the menu is totally un-interesting. Stephanie eventually tells Danielle and Chris that they're changing the menu and making all small plates, and eventually they agree.
On the day of service, Danielle is fully losing her mind about cupcakes and also about all other things, and Chris is literally the worst restaurant manager ever. Watching him serve Joe and Elizabeth is truly one of the more painful experiences I've had in my life.
Stephanie is trying. They love Stephanie. They also love Danielle's desserts.
In the end, 92% of diners liked the food and drink, 100% liked the desserts, and 85% thought the place was fun, hip and cool. 66% of people thought the service was disappointing. Joe tells Chris to keep his day job. Oof.
The Offers: 
Elizabeth: $100,000 for 40% equity
Joe: $100,000 for 25% equity, and then 7% pref until he gets paid back. Once he gets paid back, Stephanie gets half his interest and she can buy it through incentive income and real dollars, 50/50 split.
Chris has an issue with Joe's offer because it makes him a partner and also a banker. They want him to take the banker aspect out, and have him just give them the money, but still allow Stephanie to have the same ownership over it.
Danielle is a complete basket case, but they take Joe's offer.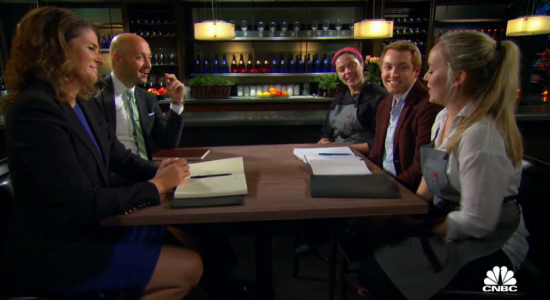 Now:
The Copper Hen used part of Joe's investment to launch a new craft cocktail bar, and they're hoping to open in other locations soon.
Have a tip we should know? tips@mediaite.com