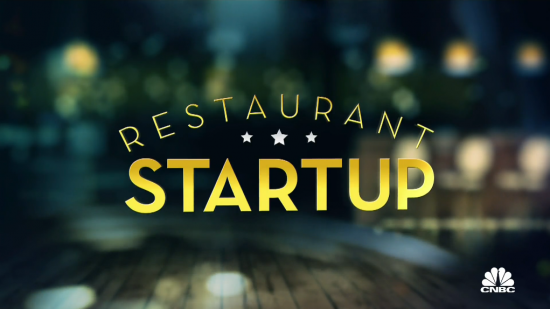 Enough with the balls jokes. We get it. Rice balls are funny when you talk about them like they're testicles. LOL! Now that we've gotten that out of our systems, here's what went down on last night's restaurant startup. First, we meet Brad Barzloski and Michael Tumlin who own Rolz with a z. Rolz with a z is a food truck and and pop up restaurant that serves deep fried wraps, or Rolz that consists of things like Doritos with buffalo chicken inside them. Strangely enough, both stores are already profitable. I use the word strange because I assume every person who eats these immediately dies. They claim their products are "all organic," which Tim Love and Elizabeth Blau have to remind them is impossible, given the Doritos, etc.
Their margins are great. Each roll costs $2.31 to make, and they sell them for $11. They anticipate that 37% will go to their bottom line, which is huge in the industry. Tim could not hate any part of it more, and the best he can muster is that it's an okay late night snack. Elizabeth, for some reason, likes this as a "family establishment." I would never bring my nonexistant kids to Rolz. It's not even pretending to be anything with even a small nutritional value. It's a deep fried Dorito Cap'n Crunch wrap. A Big Mac is better for you. Plus, I can't exist in a world where I'm bringing my family to a place called Rolz with a z.
The ask: $300,000 for a 30% stake in a brick and mortar Rolz in Louisville, Kentucky.
I haven't seen the other place yet, but I know it's going to be the winner.
Oh, but this is the place with the balls jokes. Their place is called I got balls. I guess the name "I Got Balls" wins. But only by this much. My fingers are really, really close together. Moratorium on balls jokes from here on out.
Ralphie Grotto and Chris Salmanese are up next and they're in town from Staten Island making rice balls. The guys are lovable, it's all about family recipes, and obviously, the investors are picking this team. Tim and Elizabeth taste the food and the first thing I'm wondering is why they didn't have Joe Bastianich do the episode with the rice balls. What gives? I'm also pretty surprised because for the first time, the food struggles. They're not as in love with it as they usually are. The guys want to open a quick service restaurant with rice balls, soups, salads and desserts, but the investors want to get them into the retail business. Right now, they cook in their garage and have standing orders at 4 different high end supermarkets who buy about 2,000 rice balls per week from them.
The ask: $200,000 for 15% stake in I Got Balls.
Elizabeth is particularly into the retail aspect and she loves how entrepreneurial they are.. She wants to get them into buffets out in Las Vegas, help them find a copacker, and start selling their rice balls on a much bigger scale.
The show plays some music and even puts a commercial break in between the pitches and the decision of who the investors are going to pick but it's starting to get a little dramatic. Pretty much every episode, there's one obvious choice. To literally no one's surprise, they pick "I Got Balls."
Ralphie's mom is going to come help make the minestrone, and the whole episode looks like it's turning out to be a lot of fun. Then, Antonia Lofaso comes by to remind us that she's Tim and Elizabeth's eyes and ears, but that they should use her as a resource. I bet she's going to call the food beautiful.
When she tastes the menu, the orange salad dish Ralphie makes is too sweet, and while the rice ball is BEAUTIFUL (pat on the back for Dana!) some of the ingredient ratios are off, and one of the rice balls is made of poison or something that makes Antonia anaphylactic. I know this because Antonia spits the foot out in literal horror. Oh wait, it's not poison. Just some of the cheese isn't melted. As my sister the preschool teacher would say, Antonia is having big feelings about the cheese. Too big.
Ralphie's feelings on the cheese not being melted are also too big, and he starts cursing. Antonia explains that they really need the product to be totally standardized, because the investors are interested in this as a retail endeavor. She brings in Andrew Hunter, an expert in copacking who explains to them that they're too restaurant and recipe driven. They need to be thinking in terms of formulas.
Time for service! The food is really good, people like the rice balls a lot. The kitchen is a completely different story. Tim is washing dishes, which is for sure not a good thing, and Ralphie and Chris hadn't produced enough balls before the pop up opened to serve everyone quickly. They were hoping ticket times would be 5-6 minutes, but in reality it was closer to 15 minutes.
The investors liked most of the food enough, except for the orange salad. On the ambrosia, they were divided. Tim thought it was "spectacularly bad," but Elizabeth though it was fine.
Let's see how they did:
95% liked the food.
83% would buy the rice balls in the supermarket, which excites Elizabeth.
The projected check average was $15, and the actual check average was $19- this is very good.
The projected ticket time was 5-6 minutes, the actual ticket time was 14-20 minutes- this is very bad.
The Offers:
Tim: $200,000 for 80%.
He wants Ralphie and Chris to focus on the retail aspect of the business, because that's what they're good at, and he'll run the quick service piece of it. He tries to explain to them that this is normal for restaurateurs in a first endeavor.
Elizabeth: No money, but she will finance their copacker. She doesn't want to open a quick service restaurant at all, but she wants to start the retail business.
They accept Elizabeth's offer, because Tim's is just too crazy for them.
Currently:
They have deals with Costco and Whole Foods, and the business is up and running. Looks like they made the right choice.
Have a tip we should know? tips@mediaite.com