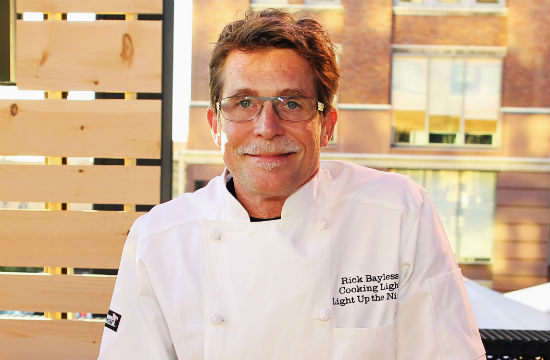 If you're not familiar with Rick Bailamos' dinner theater production, Cascabel (which ran for six weeks last fall through Lookingglass Theater in Chicago, and in conjunction with a three-course meal at Frontera Grill), it was a circus show that starred Bayless himself (yes, doing his own circus stunts), wooing an appetite-less woman with food in a Mexican boarding house. The audience of 150 was served three courses cooked by Rick as the actors on stage were eating them in the story. Taste-o-vision? Something like that.
Tickets to the show cost around $200, and Rick had to bust his team's collective butt to get 150 upscale plates out in a three-and-a-half minute time frame. But, the man has caught the acting bug and is, in fact, considering a revival.
"We wrote it, we produced it, it was a great hit," he told The Daily Meal. "But now we're all thinking, 'Oh it would be better, if we did this, did that.'"
The reboot would be autobiographical and serve a much smaller audience of 30-40 people. Explains Rick:
"I've been doing a bunch of writing, sort of personal history writing…Every chapter of this thing I'm working on is focused on this dish and how this dish really sums up a certain part of my life, so I would like to tell a story of my life essentially in a five- or six-course meal. And each dish would have something in it that's really about me personally, how I got to be the person that I am."
As long as his infamous mole has a significant amount to do with how he got to be a person, we sign off on this masterpiece theater.
Have a tip we should know? [email protected]