Robert Irvine Joins Zynga's Chefville To Save Desperate Company In Danger Of Closing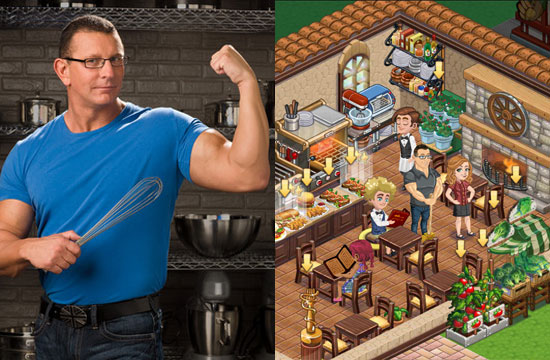 Social media company Zynga announced today that Robert Irvine, he of the biceps and the rappelling-out-of-flaming-helicopters ilk of chefs, has joined forces them to create a Robert Irvine version of ChefVille.
According to Zynga, this is absolutely not a foolish stunt and/or last-ditch attempt to reverse the fortunes of a floundering company that's been hemorrhaging employees and executives, suffering a 72% decline in their stock's value ever since their December IPO, posting poor quarterly earnings, and battling an expensive lawsuit from Electronic Arts over copyright infringement.
Given the above information, we market analysts have come to the conclusion that Robert Irvine is filming a Very Special Episode of Restaurant: Impossible at Zynga, where he saves America's most desperate company from impending failure in just two days using nothing but $10,000 (or whatever ridiculous amount of Internet Money he and the Food Network stand to make from this partnership).
In the case of ChefVille, Irvine's assistance to Zynga comes in the form of quests and challenges for ChefVille players, as well as popping up occasionally in avatar form to yell assuring things at users while they run their own virtual restaurant empire. Somehow, his presence will get Zynga users to spend more real money on virtual goods, which they really haven't been doing much of lately.
In the next two days, expect to see Michelle Obama high-fiving Robert Irvine at Zynga, congratulating them on the work they've done for keeping children healthy. In the next five months, however, Zynga will likely shutter like some of Restaurant: Impossible's subjects.
Have a tip we should know? tips@mediaite.com