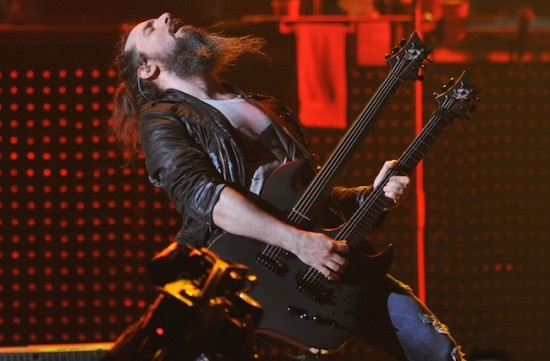 Celebrities just won't learn. People want to eat products endorsed made by actual chefs. The latest in 'don't quit your day-jobs' chefdom comes by way of a past-his-expiration-date rocker, and Guns N' Roses guitar player, Ron Thal, and a we've-never-heard-of-your-band guitarist named Chris Caffery.
The New York Post reached out to these jalapeño shredders surrounding the New York City Hot Sauce Expo, which concluded yesterday in Brooklyn. Thal discussed the brand that took his passion to pet-project this January (Bumblefoot, which is also his rock star nickname), telling the paper that his sauce-related peer pressure rivaled that of a drug dealer.
"I was almost like a drug pusher of hot sauce," he said. "The first one's on me, from there on it'll cost you." His sauces range from a mild cherry burboun flavor ("Bumblicious!") to "BumbleF**KED" which features ginger, tropical fruit, ginseng and caffeine, and is somehow, still a hot sauce. Breaking with the all-American badassedness for a moment, the sauces Thal developed with CAJohns Fiery Foods are all natural, preservative- and gluten-free, peanut allergy safe, and proceeds benefit women's health organizations. Aw.
Chris Caffery, lead guitarist in the Trans-Siberian Orchestra, debuted his Tears of the Sun hot sauce in 2011 and hopes that his rock-star reputation won't impede serious sauce enthusiasts' ability to appreciate his product. He told the New York Post, "I think if you put your name on it, we're not going to be taken seriously. These recipes are 100 percent my creation." We're not worried: the sauce won a 2011 Hot Pepper Award, and what's that band you're in again?
Have a tip we should know? tips@mediaite.com