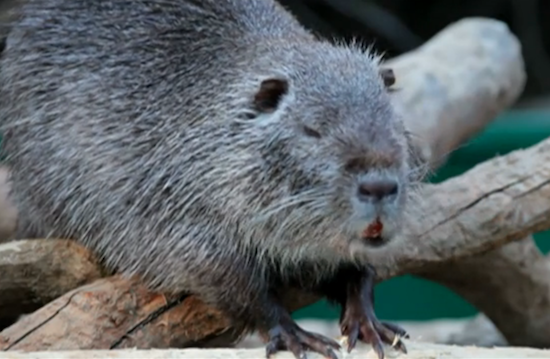 Well, this is weird. In the 1920s, a ginormous rodent called nutria was imported for the use of its fur, by the man who invented Tabasco Sauce. Fur fell out of favor (way to go, PETA) and the 20-pound rat-things were released into the wild. Nearly a century later, the hungry herbivores are destroying Louisiana's Bayou and depleting the swampland that protects the fragile, low-laying area from hurricanes. Man, if Katrina was the fault of these furry little guys, Kanye West owes George W. Bush an apology.
Obviously the story brings up a lot of questions, which documentarians Jeff Springer, Quinn Costello, and Chris Metzler have taken to Kickstarter to answer. Following projects like Plagues and Pleasures of the Salton Sea, and Everyday Sunshine: The Story of Fishbone, their film, Rodents of Unusual Size, will explore the series of events that caused the nutria population to explode, and introduce some of the characters dealing with the deluge today. One such character, a swampland hunter (who strangely doesn't have a show on TLC yet) swears that if you tasted his fresh-caught nutria, "you'd throw your steak out. That's how good it is."
In the clip below, the filmmakers undertake a nutria taste test — you can get FDA-approved sausage made of the stuff, apparently, and "snack sticks" that taste "like Slim Jims." Their Kickstarter suggest that even fancy cajun chefs like Paul Prudhomme are trying to do their part by serving up nutria. If the film takes off and word of this local, free-range delicacy spreads, we might finally get a break from offal. It could happen, the guys rate the snack sticks as a "seven out of 10," and seem generally pleased with their swamp-rodent gumbo.
As for whether we'll rush down to the Bayou for a taste? Not likely, this editor once tried guinea pig (considered a special-occasion meat in Peru), and has returned to seeing rodents as a subway infestation rather than food. If you want to claim your space at the top of the food chain, head over to Kickstarter and make a donation — the filmmakers have a walk-in full of nutria sausages to offer as rewards.
Have a tip we should know? tips@mediaite.com