Ronald McDonald Got A Makeover, Is The Equivalent of Old People Wearing Tight Jeans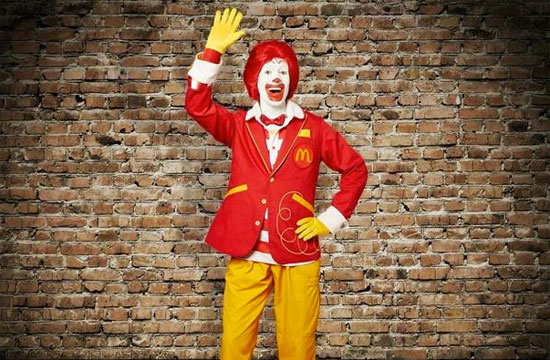 Lately, Ronald McDonald's been looking at itself in the mirror and wondering what happened to it, and who that sad, old clown staring back at him was. Its brilliant red hair, thinner by the day. His belly swelled bigger, year after year. It had money, it had power, but lately, everyone seemed to hate it — from the kids laughing at his once-cool baggy pants, to his employees calling him a greedy CEO who barely paid his employees a living wage.
So he did what any 60-year-old clown in a midlife crisis would do: got a makeover.
His corporate overlords debuted his new Look today — new duds, new hairdo, new outlook on life. He even got a Twitter account, and will talk to the Youngs using the hashtag #RonaldMcDonald on already existing McDonalds accounts. Per NBC News:
Ronald will now sport mustard yellow cargo pants and a red and white striped rugby shirt topped by a sleeveless yellow zip-up jacket. For "special occasions," there's a red bowtie and blazer with his signature on the back. His hair is a little tighter too. But those big red boots remain the same.
I'm cool, McDonald thought, staring into the glow of his new iPhone (he finally ditched his BlackBerry during a bout of existential terror), admiring the clean swoops of the Twitter logo. This is what it feels like to be relevant. This is cool. He smiled, and then thought about all those jokes about clowns hiding their sadness behind a painted smile, and then he felt sad again.
[NBCNews]
RELATED:
In Honor of the Failed McResources Website, The Best Worst Advice from McDonald's
McDonald's Still Has 10 Million Pounds of Frozen, Unsold Mighty Wings
Ezra Klein Compares Momofuku to McDonald's: 'If You Don't Think McDonald's Is Delicious, You Are The Problem.'
Have a tip we should know? [email protected]