Ruth Bourdain To Publish Book That Will Undoubtedly Make Us Feel Uncomfortably Dirty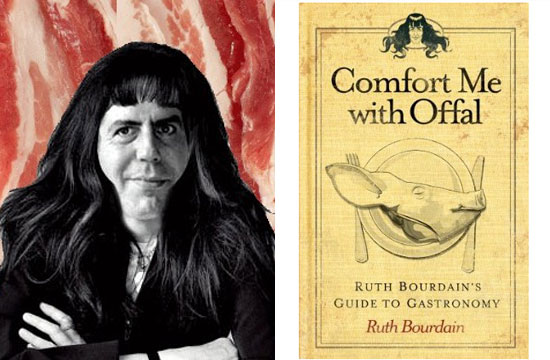 Oh god. Oh dear god. Ruth Bourdain is writing a book.
Ruth Bourdain, the famous Twitter account who twists the achingly erotic food poetry of Ruth Reichl's tweets with the effed-up mind of Anthony Bourdain, wrote a book. Okay, yes, we know that it's going to be a total cliche to say that this is going to be the 50 Shades Of Grey for food writing, and we're really sorry for making that comparison, we really are, but seriously. Comfort Me With Offal: Ruth Bourdain's Guide To Gastronomy is happening, and it will be a paperback book that you can read with one hand, while you use the other hand to, uh…beat some egg whites. (Sorry.)
"Painstakingly fact-checked by Jonah Lehrer," s/he/it said on his/her/its website, "this practical handbook covers everything from food history to dining etiquette to matters of taste and gives you the basics on all aspects of gastronomy."
How filthy is it? This is a link to a NSFW graphic of Rick Bayless demonstrating such sex "gastro-yoga" positions like "The Quesadilla" and "The Huitlacoche." There is also, among other things, tips on achieving the full orgasmic pleasures of chocolate, and becoming a "master baster" on Thanksgiving.
Comfort Me With Offal comes out on September 4th, and will probably be a satirical masterpiece that demonstrates why Ruth Bourdain won the first ever James Beard Award for humor. More likely, however, it will leave us feeling sensually satisfied, but our hearts full of shame, so very, very heavy with shame.
[Comfort Me With Offal via Grub Street]
Have a tip we should know? tips@mediaite.com