Saint Lucia PM Writes Glowing Press Release for Top Chef Finalist Nina Compton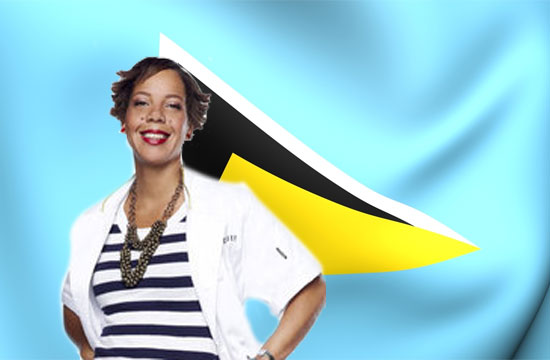 In all fairness, Top Chef finalist Nina Compton has a father who was, by all accounts, one of the most beloved Prime Ministers in the history of Saint Lucia. And frankly, not a lot of famous people come out of the tiny Caribbean island nation (with 173,000 residents, it's smaller than most NYC neighborhoods).
But the utter effusive joy in this press release from the Prime Minister of Saint Lucia, Kenny Anthony, is, well…something. Especially the part where Anthony dubs the Top Chef finale as Nina's "date with destiny".
Read the entire press release below, courtesy of Facebook:
For Immediate Release
February 4, 2014

LET US ALL SUPPORT NINA COMPTON FOR AMERICA'S TOP CHEF

The following is a statement issued by Prime Minister Dr. Kenny D. Anthony rallying support for Chef Nina Compton.

"Nina Compton has made Saint Lucia proud. She has taken the United States of America and the rest of the television world by storm in her quest to become America's Top TV Chef.

As I have said before, Saint Lucians at home and abroad are all proud of Nina and she knows she carries the support of each and every one of us, each time she presents a new winning dish.

Nina has made it to the final contest as one of the last two top chefs still standing. Now, more than ever, we must stand behind this daughter of Saint Lucia who so loves and displays the land of her birth.

Wednesday, February 5th will be Nina's date with destiny. That night she will face the grill and the judges with all the confidence that has taken her this far. But she will know all our eyes are on her and all our hearts are also with her.

I have said that winning 'America's Top Chef' title will be the best gift Nina can give to Saint Lucia as we prepare to observe the 35th Anniversary of the date her father led our island into nationhood through independence. Nina has shown us thus far that she can do it — and we all know she can pull through on Wednesday evening.

The Government of Saint Lucia has teamed up with patriotic partners to host a viewing party at the Derek Walcott Square on Wednesday night. I am also aware that efforts are underway to host a viewing party at the Vieux-Fort Technical Secondary School. I call on all Saint Lucians to join the live broadcast of Top Chef, decked out in our flag colours. I call on all local television stations and other media houses able and willing, to make appropriate arrangements to broadcast the event on Wednesday night.

I know many at home and in the diaspora will tune-in through the internet to witness this historic event.

I call on all young Saint Lucians seeking a role model or with doubts of their own capability to tune in on Wednesday night and take example from Nina Compton, who has shown that everything is possible anywhere, anytime — once you are committed to pursue and achieve your goal.

As the nation patiently awaits the unveiling of her father's statue at Constitution Park during our Independence celebrations later this month, let us all throw all our support behind Nina from today till Wednesday, as we patiently await, with bated breath, for the judges to declare Nina Compton 'America's Top Chef'.

END
(God, we're such jaded new media types.)
[h/t Eater]
RELATED:
Tonight in Food TV: Padma Lakshmi in a Bikini, Something About the Top Chef Finale
Top Chef New Orleans Last Chance Kitchen: And the Winner Is…
Tonight in Food TV: Top Chefs Give Up, Get Drunk, Impersonate Judges
Have a tip we should know? tips@mediaite.com