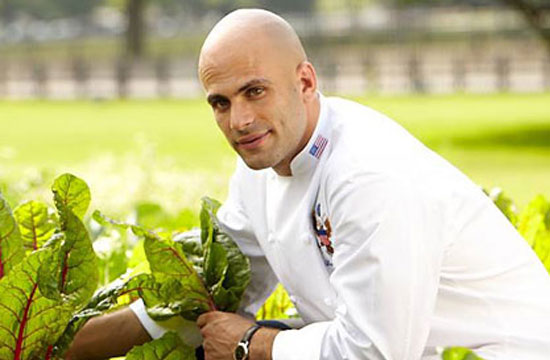 Once upon a time, Sam Kass played the base balls pretty well at the University of Chicago, a humble Division III school that prevented him from getting the recognition he truly deserved. Then he had this job where he cooked for the leader of the free world, and helped the leader's wife get a nation to start losing weight.
Right now he currently doesn't have a job, but at least he got a prize: the National Collegiate Athletic Association bestowed the 40-in-40 Award upon the chef, who — and this is true — was once legitimately considering playing for Major League Baseball.
As the press release (via Obama Foodorama) from the NCAA reveals, Kass holds crazy good records at U of C: he holds the seventh highest batting average (.366) and the third highest career stolen bases number (36) in the school's history. (Division III sports are adorable in its ambitions. Caveat: The author is from a Division III school, which is also adorable.)
"But wait a tick," you might ask. "When did the baseball thing end and the chef thing begin?"
While following his passion, Kass discovered his potential in another pursuit – as a chef. In addition to playing a sport and studying history, Kass found time to try cooking at a popular Chicago eatery, then traveled abroad during his senior year to train with a renowned Viennese chef and ultimately to work in restaurants around the world.

The next time Kass came home, he soon earned fame as one of Chicago's rising chefs and an advocate for use of locally grown ingredients. From there, his cooking for Barack Obama and family during the 2008 presidential campaign led to a job in the White House.
Oh, there we go. Congratulations, Kass; we hope it's a suitable replacement for a paycheck.
RELATED:
GASP: Sam Kass Has Been Furloughed in Government Shutdown
WATCH: President Obama Needs His Comfort Food, Because We're All Screwed
LIST: Here's What Happens to Your Food When the Government Shuts Down
Have a tip we should know? tips@mediaite.com