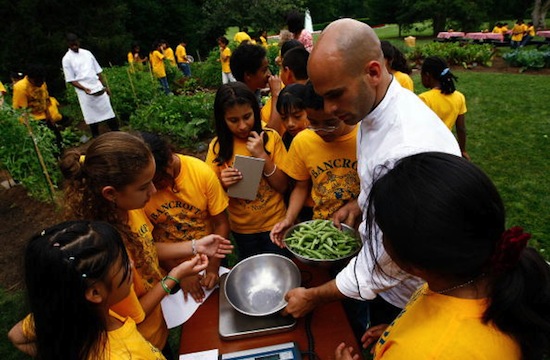 It turns out that even Michelle Obama and White House chef Sam Kass aren't immune to Washington, DC infighting: according to POLITICO, Kass was politely rejected from attending the School Nutrition Association's annual summit in Boston this week — two years after he was adulated as its keynote speaker.
In fact, he was burned. "We didn't feel [our members] wanted to hear the rallying call," Patricia Montague, SNA's CEO, told the publication. "We felt it was best he not come."
Considering that we're historically fans of Kass and his handsomeness, this may be shocking to most casual readers. However, the background of the fight is all too familiar to political insiders: despite the soaring popularity of Mrs. Obama, Kass, and the healthy eating standards they champion for schools, SNA, an advocacy group representing the interests of cafeteria workers, are at loggerheads over the implementation of healthier eating standards. By "implementation," we mean all the big political questions that accompany a policy shift, such as:
Where is this money going? What are we buying with it?
Who is going to get the money?
No, seriously, who's getting the money? Is it me? Because if it's not me, I will flip.
SNA claims that many of its 55,000 members are "overwhelmed" by the new nutritional standards, and that, even worse, children aren't participating in the programs due to the now-limited choices they face. Moreover, they argue that there's not enough flexibility for the schools to go back to their former menus should students not participate:
When SNA asked Congress for some regulatory relief, Rep. Robert Aderholt (R-Ala.), included a measure in the House agriculture appropriations bill to give schools a break from the requirements next school year if they show a net loss for six months. The waiver rider sparked a civil war within the nutrition community and infuriated the Obama administration, which openly questions why SNA is seeking to roll back key elements of the Healthy Hunger-Free Kids Act, a bipartisan law the group originally backed.

Nineteen former SNA presidents wrote a letter of dissent and several expressed worry that the food industry was unduly influencing the association's position, for which it was aggressively lobbying on Capitol Hill — moves that led the White House to believe that most school nutrition leaders are on its team and agree with the changes. SNA has ardently denied that the food industry, the source of more than half the association's operating budget, is fueling its push for regulatory relief, pointing to larger concerns about kids dropping out of the program because they don't like the food.
It's evident why Kass was rejected from the conference. But considering that SNA is having communications problems with a non-celebrity (apparently a meeting with Secretary of Agriculture Tom Vilsack "fanned hard feelings"), we're thinking that efforts to change the nutritional standards of school lunches are about to slide backwards.
[POLITICO]
Have a tip we should know? tips@mediaite.com