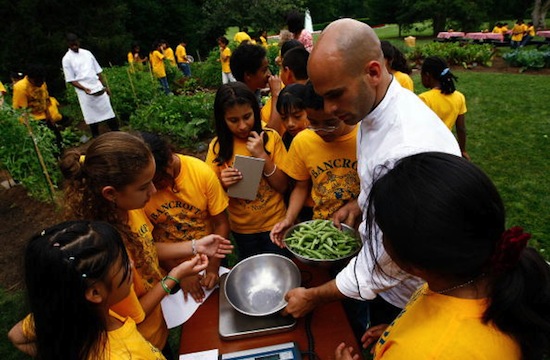 We're not just saying this because we're MasterChef Junior deprived — let's team Sam Kass up with Gordon Ramsay and the MasterChef Junior judges to design this "Home Ec of the next generation" and show kids that cooking can be awesome. Best idea ever, right? (We'll be waiting here patiently for our royalty checks, kthx.)
White House Chef, Executive Director of the Let's Move! campaign, and all-around babe Kass recently spoke to the Washington Ideas Forum with new ideas to fight the obesity epidemic — mainly, to teach kids how to cook. According to Obama Foodorama, Kass is on it: "We are really starting to look into what does Home Ec of the future look like … What are the key things you can teach people, what are the tools and skills you can give young people," said Kass. And then there's this tidbit:
Corby Kummer, Senior Editor of The Atlantic, who interviewed Kass, said it might help get boys interested in cooking to have a "a high-profile bachelor who is now engaged saying 'I cook.'"

Kass, who recently became engaged to MSNBC host Alex Wagner, laughed, and pretended to not know what Kummer was talking about.
Obama Foodorama notes that this could signal a change of curriculum for Michelle Obama's Let's Move! campaign, as it hasn't recently promoted cooking. Let's Move! added a Let's Cook! video series in 2010, including a video with José Andrés, but the series stopped after only two videos. Again, Kass, listen up – MasterChef Junior!! Think about it.
During the same forum, Kass also gave his thoughts on the recent cuts to SNAP and food stamps, officially cementing him in our hearts as the boyfriend of our dreams. Carry on, world.
RELATED:
Sam Kass, The Biggest Chef Hunk, to Guest-Judge The Biggest Loser
Sam Kass Receives NCAA Honor For Baseballing Real Good in College
What Happens When Chrissy Teigen Meets White House Chef Sam Kass
Have a tip we should know? [email protected]