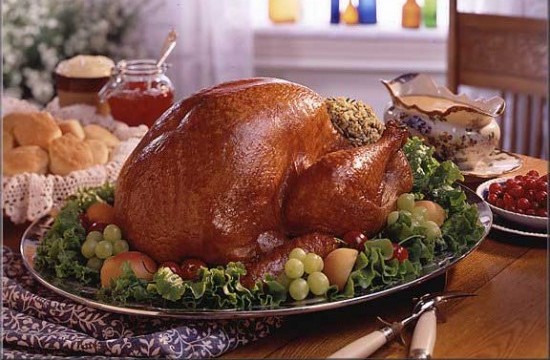 It is absolutely not a cliche to say that former New York Times critic Sam Sifton wrote the book on Thanksgiving turkeys, because he actually did. (Plus, it's a bit more awkward to say "Sam Sifton ran the liveblog on Thanksgiving turkeys," even though he did that as well.) He shares his tips on cooking the giant fowl with Food Republic, but — surprises — he reveals that on occasion, he won't listen to the advice of his many chef friends (or frenemies, given his last job.)
For instance, unlike "8 out of 10 chefs," Sifton doesn't think that a heritage turkey is absolutely necessary. "I think again, when you talk to chefs, they will say that you have to have a heritage bird, read poetry, and do all this stuff…OK, it's probably a pretty good idea to have a bird with a college education.
"I'm not advocating that horrible factory, Butterball or whatever," he amended. "But there's a huge amount of territory between the frozen turkey off the back of a truck that your neighborhood drug dealer hands out to curry favor with the populous [sic] and that heritage bird that Sean Brock taught Greek to. It depends a lot on how you're cooking and what you want your result to be."
(We're pretty sure that a Brock turkey would tell you immediately "Είμαι μια γαλοπούλα κληρονομιά από Τσάρλεστον.")
Sifton should know: he spent an entire year cooking turkeys as research for his newest book, Thanksgiving: How To Cook It Well, and he taste-tested every turkey he could get his hands on — one time, he cooked a heritage bird alongside a bird he picked up from a supermarket.
The results: "On one side, you had this heritage bird that looks roughly like Omar on The Wire. Really stringy, but incredibly attractive too. On the other side, you have Pamela Anderson. These are very different animals. They were delicious in totally different ways. I would totally brine that heritage bird, whereas I might not brine the commercial bird."
Have a tip we should know? tips@mediaite.com