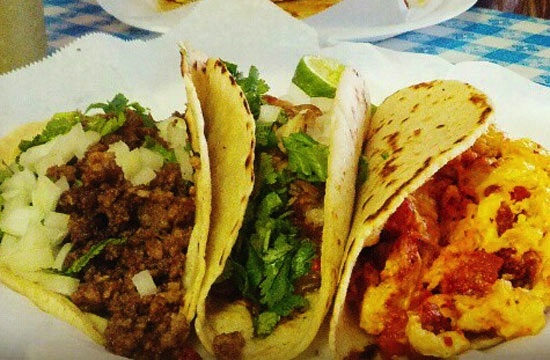 The 2016 election is already one for the ages and every industry is getting involved, including restaurants. The most incendiary candidate is one Donald Trump and plenty of restaurants have capitalized on different aspects of his campaign. An Iowa burger joint vowed to "Make the Hamburger Great Again" by serving a Trumpburger while the GOP frontrunner was in town. Other places have taken a different stand. The Wiener's Circle in Chicago served three-inch Trump Dogs over the weekend. A Louisville steakhouse took a more serious stand and banned Trump recently while he was in town.
Now, two Mexican restaurants in San Antonio have posted signs saying they'll refuse to serve Trump supporters. A location of the chain Taco Cabana is one of them:
Don't fall for the "No Trump supporters" sign at Taco Cabana … Its fake; just like this one in San Antonio pic.twitter.com/d7SnqbD2JX

— Troy Hughes™ (@TommySledge) March 14, 2016
A similar sign is in Mama Margie's, an independently owned spot.
Here's the catch. Both restaurants are saying they don't know who put the signs there. Taco Cabana has said: "We don't post political signs, but we do make great tacos. Taco Cabana is not responsible for the placement of this unauthorized sign on our property." A partner at Mama Margie's said: "We're very disgusted. We just want the public to know that this will not be tolerated … It's not part of what we're about."
Still, Trump supporters are, of course, already planning to boycott the two restaurants. There's no word yet on who may have posted the signs.
Have a tip we should know? tips@mediaite.com