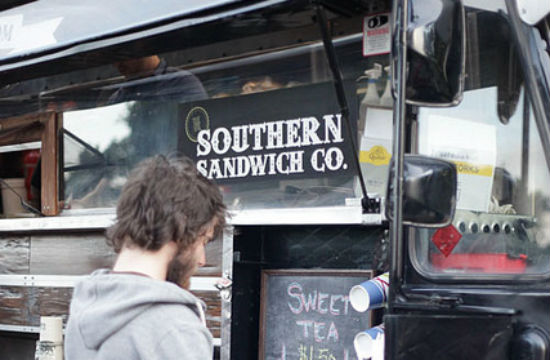 While food trucks across the country are engaged in battles versus their hometowns, surrounding restaurants, and health code violation-obsessed pedestrians, San Francisco put a small, but hopefully precedent-setting W on the board.
San Fran food truck meet-up Off The Grid had a suit filed against it by nine Financial District restaurants complaining that its permits gave the caravan of trucks an unfair business advantage. Yeah, it is pretty unfair when a bunch of trucks offering a variety of cheap, tasty, portable cuisines band together to conveniently provide affordable and delicious lunch options to hungry office workers, ripping business away from brick-and-mortar establishments.
But unlawful? We think not. And neither does the city of San Francisco. Off the Grid owner Matt Cohen appeared at City Hall to challenge the suit, proving that he had the proper permits and paperwork to run the meet-up, and it all held up. They issued the following statement after the ruling:
Last night, Off the Grid successfully argued for the upholding of an existing permit to continue their market located at Vallejo & Front. Several local restaurants had challenged the permit based on concerns of unfair competition and displacement of business. In a hearing at City Hall, Matt Cohen, owner and founder of Off the Grid, demonstrated that the permit is indeed fully within the law and that Off the Grid: Vallejo & Front brings a much needed diversity of lunchtime offerings to the area. Several Off the Grid supporters with offices in the neighborhood also attended the hearing to show support and share their appreciation for the market. Off the Grid looks forward to resuming service at Vallejo & Front in the near future.
Great. Now what do we have to do in New York to get the city to quit pushing our beloved food trucks off the street? Chasing the Big Gay Ice Cream Truck around as cops force it to move tuckers us out.
Have a tip we should know? tips@mediaite.com