Sandra Lee Allegedly Accuses Bewildered Italian Tourists Of Mocking Her In Restaurant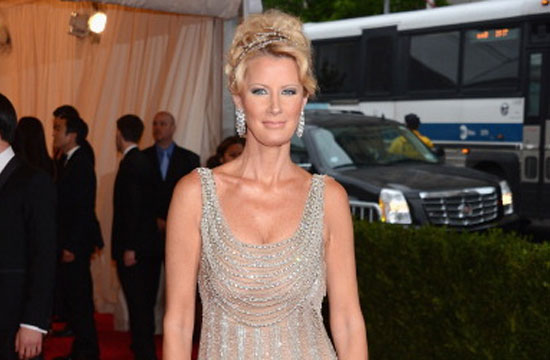 Take this with a grain of salt, because this is from The New York Post, but: after overhearing comments poking fun at her Semi-Homemade empire, Sandra Lee allegedly caused a scene at a New York restaurant in an attempt to find out who dared to mock her — and ended up accusing a group of confused Italian tourists.
And weirdly enough, the mocker was John Luciano, who was there with his boyfriend, Nick Gruber.  Gruber once dated Calvin Klein and totally did not plant this story in Page Six because of a tell-all memoir about the affair they're publishing very soon.
As Luciano recounted, they and a group of friends were happily lunching at BG at Bergdorf Goodman when Sandra Lee swept in like the Ice Queen and took a seat across the restaurant. When Gruber asked who she was, Luciano described her career thusly: "She takes an angel food cake, slices it in half, opens a can of frosting, frosts the cake, calls it semi-homemade, and makes a lot of money."
But the acoustics of the room bounced and twisted Luciano's words into the alabaster ear of Sandra Lee, and she arose in a blaze of fury:
"Sandra did a 360 with her eyes around the restaurant, and walked to the manager to complain, 'Someone was talking about me,' " Luciano told us. "She said she was going to walk around the restaurant to find out who it was."

Luciano said Lee then walked over to the table next to them, where four Italian tourists were seated. "She extends her hand and says, 'I'm Sandra Lee, I have feelings, too,' " Luciano told us. "But they were Italian tourists, so they had no idea what she was saying. They were bewildered. So she got her friend and stormed out of the restaurant."
Luciano reached out to Page Six as a public way to apologize to Lee, stating that he felt "terrible" about the situation. Sandra Lee's rep accused him of making the entire thing up " to see their name in the press." We no longer know the difference between truth and lies, and the world is a cold, cold place.
[NYP]
Have a tip we should know? tips@mediaite.com