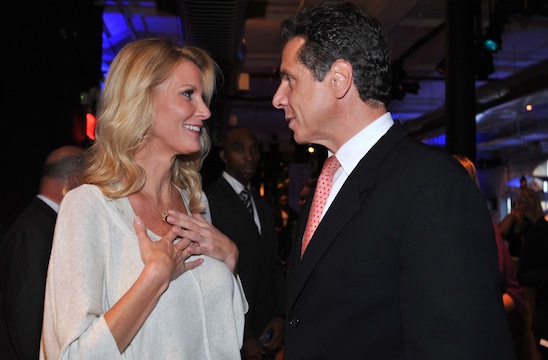 What to do, what to do: when one half of a couple wants to keep publishing their eponymous lifestyle and food magazine, and the other half of said couple wants to be the President of the United States, which half of the couple gets to chase after his or her hopes and dreams?
According to the New York Post, New York Governor Andrew Cuomo's political aspirations are putting a slight damper on wife Sandra Lee's negotiations for her magazine, called Sandra Lee. The magazine has been a slam dunk for Lee and her business partners at TV Guide, with whom she relaunched her magazine. But if Cuomo makes a run for the White House (which the Post's sources say would only happen if all-around BAMF Hillary Clinton doesn't run), Lee would be a little too busy campaigning to run a magazine. And then you know, maybe being FLOTUS. (Watch your back, Michelle Obama — your healthy eating campaigns are in danger of some serious comfort food.)
According to the Post, the newest round of negotiations may extend the Sandra Lee magazine for two years, ending with the November/December issue of 2015. That leaves Cuomo and Lee plenty of time to hit the campaign trail when the issue wraps in September. But then what for Lee? If she's not doing cookbooks anymore, then what?
RELATED:
WATCH: Sandra Lee Dishes On Her Totally Fictional, Not At All Semi-Autobiographical Novel Recipe Box
WATCH: Buddy Valastro Battles Sandra Lee For 'Most Racist Dessert' Title With Piñata Cake
Sandra Lee Is Quitting Cookbooks To Focus On Her Magazine
Have a tip we should know? tips@mediaite.com