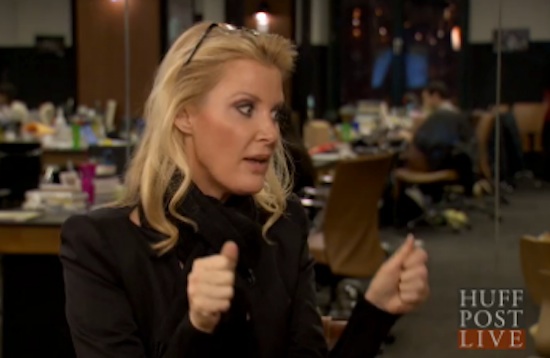 We're not actually sure why Sandra Lee is being interviewed by HuffPost Live, — is it really just to talk about the newest issue of Sandra Lee? Put Oprah on there! — but here we are.
But apparently Lee was named the "Queen of Fashion" by OK! Magazine (OK!, let's talk later about this decision), so that is obviously deserving of a conversation. While Lee talks workouts, her "semi-homemade" recipes, turtlenecks, and coining the phrase "tablescapes," the conversation turned to her celebrity chef status. And yep, Sandra Lee can't get no respect. Said Lee:
"I think that if they cook with a different sensibility than I do, and they're more 'purists,' that if they don't respect me for the way that I cook — although I don't know many people that own their grocery stores, except for Mario [Batali], and he's one of my dear, dear friends, so — I think they respect my business acumen.

I think that they get that we're here, we're all running businesses, and our job here is to help people who need to be helped and who want to be helped."
So basically, being a celebrity chef is about making big bucks — so back off!
And then we're back to "life strategies in the kitchen, and we zoned out again. Watch the interview for yourself (warning: it's about 20 minutes, her celebrity chef comments are at about 12:00).
RELATED:
WATCH: Sandra Lee's Creepy Christmas Decor Will Make You Feel Better About Your Homely Crafts
Sandra Lee Has Eight Christmas Trees and Will Not Apologize for Loving Christmas
TKTKAndrew Cuomo Is Totally Ruining Sandra Lee's Magazine, Hopes, and Dreams"/a>
Have a tip we should know? tips@mediaite.com