Sara Jenkins: Keeping Seafood Sustainable Would Be So Much Easier If People Ate Weirder Fish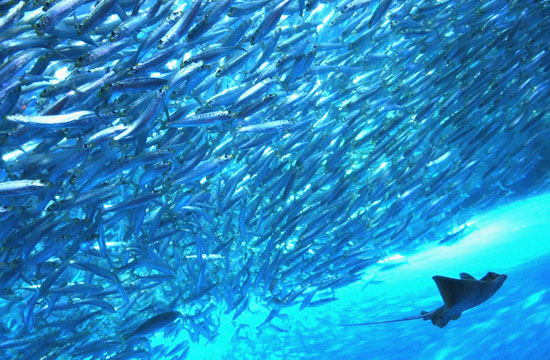 Overfishing threatens our seas and our food supply, leaving our global future in limbo. And yet we love our sea meat so very, very much. Americans, however, have this annoying tendency to eat certain types of fish — salmon, tuna, striped bass, that white fish that comes out of a fridge — which, as Porchetta's Sara Jenkins points out in an op-ed for the Huffington Post, is hardly sustainable. While the types of fish available in everyday markets is infinitely better than it was, say, 25 years ago, Jenkins is miffed that no one knows about these weirder fishes.
"People have been so willing to embrace nose-to-tail eating and increase their gastronomic awareness," she writes, "that one would think getting the dining public (i.e., my customers) to eat and experience a wide range of local seafood would be easy." And she should know, because nose-to-tail is the entire point of Porchetta. But do you know what's scarier for consumers than pigs? Apparently, fish:
Mine is not a seafood restaurant and I am not famous for cooking that foodstuff, so I understand that people are not dining with me specifically because they want to eat fish. But still, I wish they could be more adventurous and try something other than striped bass, salmon, and tuna…I bring in local hake so fat, meaty, and fresh it puts cod to shame, and then I watch it sit there, getting older, until I either have to turn it into something else, feed it to my staff, or throw it out in despair. I've bought whelks and cooked them exactly like classic escargot or tossed them in curly pasta with parsley and garlic. I constantly try to sell porgy, a plentiful, local sea bream in the same family as Mediterranean gilthead bream (or dorado), a fish that is raised in fetid fish farms in Greece and Israel, then flown to eager consumers all around the globe at great cost and environmental expense. Porgy is virtually the same fish, with one difference — it qualifies as "local" and "sustainable," two favorite buzzwords among today's savvy foodie set. And yet, even when I slyly try to sell it as Atlantic bream, I chuck more than I sell.
What if there were some sort of sea version of Anthony Bourdain and Andrew Zimmern, who made it their mission to go around the world and eat weird fish? Or turn it into a luxury food? After all, 17th century prisoners once thought that eating lobster was inhumane. True fact, you guys.
Have a tip we should know? tips@mediaite.com