WATCH: Bobby Flay Cheats At Savannah's Cooking School, Roasts World's Most Boring Chicken On Today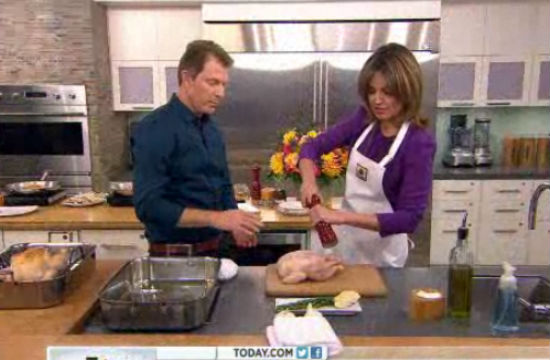 Stuffing butter under the chicken's skin for a perfectly crispy roast bird? Nope. Not Savannah Guthrie. Oh, and don't forget Bobby Flay's militant anti-EVOO stance. Now, would we eat a chicken roasted by Bobby Flay? Of course, and it would probably be delicious. Would we eat the very, very, very dumbed down version he taught Savannah Guthrie how to make? Well, yeah, but we'd probably fall asleep while chewing.
This morning, on The Today Show's week-long series entitled "Savannah's Cooking School," Bobby Flay taught Savannah Guthrie how to roast a chicken and deglaze a pan for a wild mushroom vinaigrette. Pretty fancy, you're thinking, but Bobby was stuck tailoring the dishes for Savannah's specific skill set.
First of all, he stands by his whole ridiculous (which we label as such because it goes against everything Julia Child ever taught us) philosophy of only using olive oil in salad dressing. For cooking, he refuses to use anything other than Canola Oil. Heed us Savannah: this is a skinny person way of doing things. Just use olive oil, it'll taste better and be worse for you.
Then, he skips out on stuffing loads of butter beneath the chicken skin for a crispy, golden brown exterior. He cheats by instead laying the bird on the pan breast down before roasting to sear it for a few minutes, just to get the color. Yeah, like we said: cheaterpants. We were under the impression that you were going to teach Savannah all about the joys of sticking your hand up a bird carcass, Bobby.
(Also: the screencap below is incredibly misleading!)
Check out the clip.
Visit NBCNews.com for breaking news, world news, and news about the economy
Have a tip we should know? tips@mediaite.com