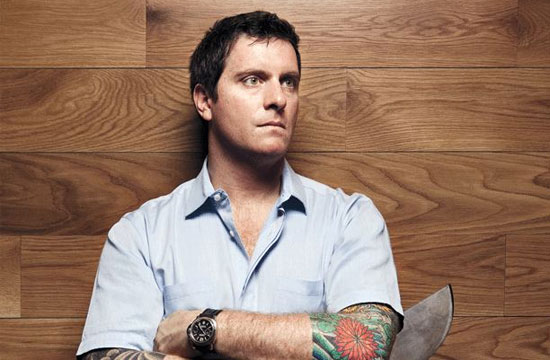 When The New Potato asked Tertulia chef and beefy arm-haver Seamus Mullen to play a chefly variant of that classic interview/college essay game, where he's asked to describe his ideal dinner party and guests, Mullen played along — but not really. In fact, we have to give him props for easily one of the more eclectic Fantasy Dinner Parties we've seen, ever.
The guests: Pablo Picasso, Auguste Escoffier, Ernest Hemingway, Michelle Obama and Ho Chi Minh (?!)
The setting: a rooftop in modern day New York City.
After he's properly explained technology ("No, Auguste, that's a plane, not a metal demon bird") and chastised Hemingway for being racist to Michelle Obama ("She's the President's wife! You can't call her that!"), Mullen will then guide his dinner guests through his dinner:
I'd cook a traditional meal with modern sensibility. There would be a lot of small dishes with everything family style to engage conversation. Most food would be cooked over an open fire, and there would be grilled fish, lots of oysters and lots of wine – good wine….I would make everyone participate in the cooking; they would cook what they wanted. It would be a meal about unrestrained indulgence, but in the most respectful, non-grotesque way. It would be visually arresting with piles of colorful radishes and shellfish on the half-shell, whole grilled fish, impeccable raw fish and sea urchins. I'd love to see Ho Chi Minh and Picasso speaking French, quaffing wine and slurping oysters, and the First Lady and Escoffier trading recipes.
And of course, Hemingway would be slumped over a gin-based cocktail in a tankard, hovering perilously close to death, as he will. Best dinner party ever. Nice imagination, Seamus!
Have a tip we should know? tips@mediaite.com