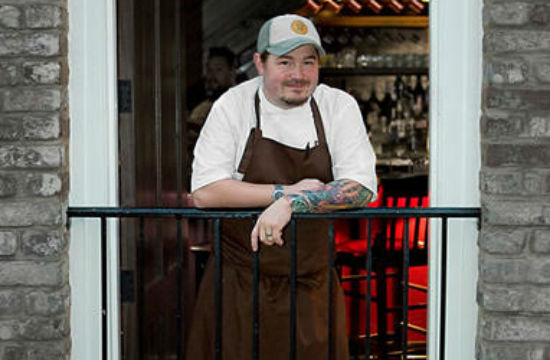 In his mission to revive traditional Southern cuisine, Sean Brock decided to take things one step further: as recounted by Food and Wine, the Charleston chef decided to board a plane to Senegal and trace his cuisine's roots back to Africa.
Pulling the white chef version of Henry Louis Gates, Jr., Brock realized that Southern cuisine is fundamentally defined by the food of West Africa, which was brought to the Americas via the slave trade, and decided to visit Senegal to find the ur-cuisine of the South. To his surprise, he discovered hundreds of parallels between the food he cooked and the food found in Senegalese kitchens — hoppin' john, collard greens, cornbread, etcetera — as well as infinite spinoffs from centuries of culinary evolution.
And even better, he ganked some Senegalese cooking steez for his own kitchens, finding inspiration everywhere — and learning some things that could veer him into completely unexplored territory for a Southern chef:
He immediately notices that the market is missing one key Southern staple: pork. Most Senegalese are Muslim, so they don't eat the stuff; instead, they use fermented and smoked fish to bring umami, smoke and intensity to many dishes. It's hard to imagine Southern food without pig, but by the end of the trip, Brock is hatching schemes to start fermenting oysters, smoking catfish and drying shrimp to bring new flavors to his core repertoire.
(Sean Brock cooking without pork? Does that mean we can take one of his baby piglets?)
Get enlightened below:
RELATED:
Sean Brock Wins Culinary Preservation Award For Saving Plants From Extinction
WATCH: Mind of a Chef Season 2 Sizzle Reel with Sean Brock and April Bloomfield
WATCH: Sean Brock Flies 13 Hours To Judge A Top Chef Quickfire In Alaska
Have a tip we should know? tips@mediaite.com