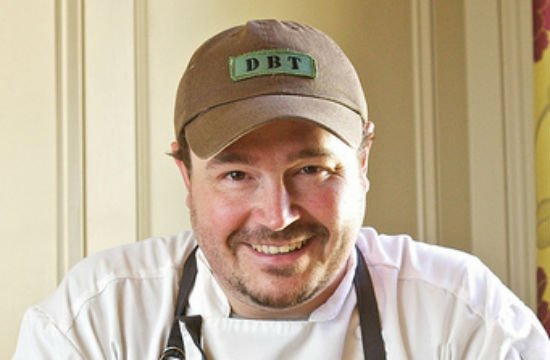 As if Sean Brock needed another way to endear himself to us, he recently revealed his obsession (read: OBSESSION; the man is obsessed) with vintage Southern cookbooks to Southern Living. Most hail from the 19th and early 20th centuries, but one tome dates all the way back to 1770.
Says Sean of A Colonial Plantation Cookbook, the oldest title in his collection, "This one shows how important the French influence was to Southern cooking during this era…But it also teaches you how to wash carpet and make paint." Colonists were nothing if not handy.
Paint-making aside, Sean finds himself connecting very deeply with the roots of Southern cooking and believes understanding them is vital to creating dishes at his Charleston restaurant Husk. In fact, he says, he finds daily inspiration from his vintage library that he applies to his menu.
"When it comes to saving seeds, I look to this book," he dished of The Southern Gardener and Receipt Book (1845). "And it also has directions on how to hunt bees. Bee hunting is trendy now, but our ancestors did it back then all the time. This book shows you how." Now we know!
And if you think Bravo's Real Housewives franchise is an original concept, think again. Three different women penned cookbooks called The Virginia Housewife (1825), The Carolina Housewife (1847), and The Kentucky Housewife (1839). We wonder if Andy Cohen keeps their mummified remains near the cages in his basement where the Real Housewives live off-season…
"I love all the stuff in The Kentucky Housewife with cow's heads," Sean gushes. "When was the last time you walked into a restaurant and saw cow heads? But that used to be the norm."
Check out his other fave century-old titles here.
[Southern Living h/t Eater]
Have a tip we should know? [email protected]