Want to Cook Like a Celebrity Chef? Introducing the 'Searzall' on Kickstarter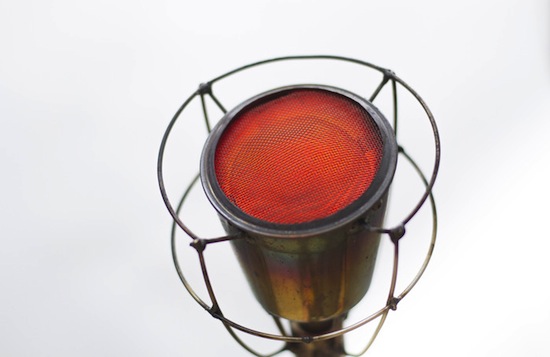 We adore the chefs we write about, and marvel at their skills because let's be real — even scrambling eggs can be challenging at times. (Don't judge.) But for the foodies out there who want to cook like their favorite chefs, Dave Arnold, the man behind Booker & Dax, has you covered.
Arnold's newest technology, the "Searzall," is just $20,000 away from reaching his $80,000 Kickstarter goal. What is the Searzall? A device that lets you master the sous-vide with just a touch. Arnold says this little guy can sear fish, pizza, cheese, "and everything else" with a zap — and really, it does look like a zap.
(There's even a photo of the team searing smore's in Central Park, which really, is the only argument we need that WE NEED ONE OF THESE THINGS IMMEDIATELY.)
So it's basically a mini-blow torch in the homes of unassuming cooks (not to fall into the wrong hands, we imagine). But Arnold thinks this is going to revolutionize cooking at home; via Kickstarter:
The backbone of the modern culinary revolution is sous-vide and low temperature cooking. By using very accurate cooking equipment like the immersion circulator you can now cook a product all the way through with flawless consistency. The problem is, sous-vide leaves the surface of food pale and crustless. Professional chefs have long known that the best way to get a really good crusty-cooked surface on a piece of succulent sous-vide meat is by using fire –very hot fire. Unfortunately, that sort of heat isn't available to most people –especially at home…

While sous-vide / low temperature cooking was the original impetus for Dave's invention, it's not the only reason to use one. The Searzall's power is instant and portable. Carry it to a picnic, a catering event, or your mom's house at the holidays and be searing in seconds. Whether you are cooking a fish at the beach, toasting the cheese on a burger at a cookout, fixing up the holiday roast, or finishing off that 6 hour sous-vide rib-steak, the Searzall will be your buddy.
Arnold says on Kickstarter that the team has lent prototypes of the Searzall to plenty of chefs so far, including Wylie Dufresne, Nathan Myhrvold, and Nathan Myhrvold. And it's got quiet a few other backers that think this Searzall is the next. big. thing.
The Searzall http://t.co/jbE9k13acM

— GRAHAM ELLIOT (@grahamelliot) November 30, 2013
Every kitchen is gonna want one of these… The Searzall by Booker and Dax Lab http://t.co/sSkWuekCy1 via @kickstarter

— Dave Chang (@davidchang) November 29, 2013
I just backed this project, every cook is going to want one of these. @CookingIssues.

— Kevin Sousa (@sousapgh) November 29, 2013
If you are one of the ~800 people who've asked me when the @Cookingissues Searzall will be on Kickstarter: GO! http://t.co/6FEWQ7BE9r

— Paul Adams (@PopSciEats) November 29, 2013
"@CookingIssues: And we are live with the #Searzall Kickstarter! Happy Searing @BookerandDaxLab
http://t.co/dzJrMdzL15" Wow great new piece

— JG Vongerichten (@jeangeorges) November 29, 2013
I backed The Searzall on @Kickstarter because the word "nonanal" appears in on the page and it's not what you think http://t.co/0EM9xpzeks

— Francis Lam (@Francis_Lam) November 30, 2013
Will this be the first celebrity chef-backed home kitchen product we'd ever buy? If you can teach us how to use it, Arnold — but this is one technology we'll be keeping our eyes on.
RELATED:
ATCH: Harvard Releases Trailer for Famed Science and Cooking Lecture Series, We So Regret Not Going to Harvard
WATCH: Dave Arnold Puts All The Foods In Giant Air Cannon, Makes Things Go Boom
Museum Of Food And Drink Reaches Kickstarter Goal, Can Now Buy Air Cannon Accessories
Have a tip we should know? [email protected]